Smart software for underwater robots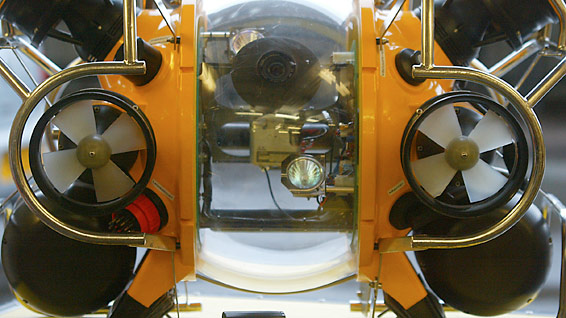 Heriot-Watt research has accelerated the growth of spinout company SeeByte Ltd into the global leader in creating smart software for unmanned maritime systems, continually innovating products for the offshore energy and defence markets.
Technology transfer and strong research collaboration led by Heriot-Watt University professors David Lane and Yvan Petillot have enabled SeeByte to remain at the forefront of its field since the company was founded in 2001. In the last five years alone, 15 technology licences have generated millions of pounds in SeeByte revenues. Many of these involve new algorithmic techniques for mapping, understanding and interacting with the environment using single or fleets of vehicles. To take one example: software used in underwater robots to inspect oil pipeline condition, using high-resolution video and sonar data. This has proved immensely valuable to the offshore energy industry, for example in making timely checks for hurricane damage.
Professors Lane and Petillot and their University colleagues have contributed great value to…[our] Science and Technology programs through their sharing of innovative technology concepts with SeeByte Ltd
Office of Naval Research (USA)
Heriot-Watt research used in SeeByte has set new world firsts. It underpinned the first commercially available pipeline inspection system for an autonomous underwater vehicle, Seebyte Autotracker – a product which has also set the world record for the longest uninterrupted pipeline inspection. Heriot-Watt research is also used by Seebyte in the first commercially available vehicle for autonomous inspection of deep water oilfields, in collaboration with Subsea7, a company specialising in the design, installation and inspection of 'seabed-to-surface' structures.
In the military domain, SeeByte's SeeTrack software is originally based on Heriot-Watt automatic target recognition and seabed classification research. SeeTrack is the de-facto standard for autonomous mission planning, real-time data processing and post-mission analysis. It is currently sold to 15 navies worldwide.
In autumn 2013 SeeByte was acquired by Bluefin Robotics Inc, a leading autonomous vehicle provider and long-time SeeByte partner, securing SeeByte's further growth and widening the scope for future collaborations with Heriot-Watt.