Accommodation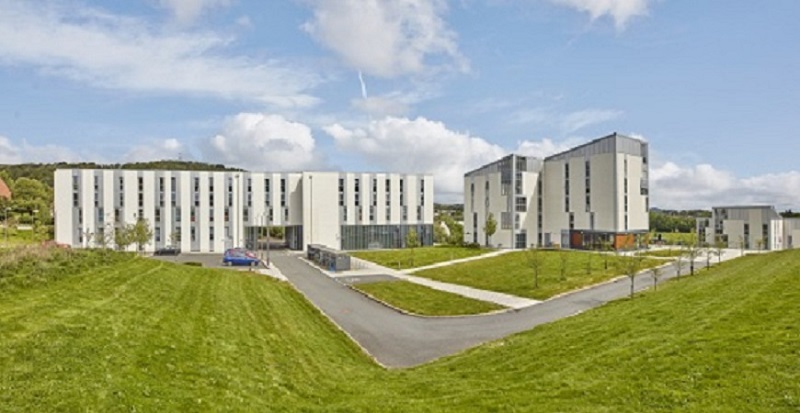 Jean Muir Student Village
You'll find a really friendly, welcoming community at the Scottish Borders Campus. You'll meet others from all over the world that share your interests, discover new activities, and make lifelong friends.
We know how important good quality accommodation is to the student experience. That's why, in 2012, we invested £12 million replacing all of our on-campus accommodation with a state-of-the-art Jean Muir Student Village.
What you'll really notice throughout the new student village is its first-class building design, the fantastic modern furniture, and the amount of communal space for you to study and socialise in.
All new entrants are guaranteed a place in University managed accommodation. Please see our Accommodation guarantee for full details.
*Images are used to demonstrate a typical student room in each accommodation type. However, the layout and contents may differ depending on the hall and room allocated.
What's included in my room?

3/4 double bed
mattress protector
desk
desk chair
wardrobe
bookshelf
pin board
en suite (wash hand basin, shower and toilet, small bin and shower curtain)

Bed linen, duvet and pillows are not provided, but you can order a bedding pack online for £30 when making your application. This will be placed in your room for your arrival.

For safety reasons, cooking/heating appliances and additional furniture are not permitted in bedrooms.
What's included in my kitchen and lounge?

Kitchen

cooker
fridge
freezer
kettle
sweeping brush
dustpan and brush
bucket and mop
swing top bin
lockable cupboard
table
chairs

Crockery, cutlery, pot, pans and kitchen utensils are not provided.

Refuse sacks are issued weekly so that you can safely dispose waste in the appropriate bins.

Lounge
Other general facilities and inclusions

Facilities

Laundry facilities (washing machines and dryers)
Student Wellbeing Hub located on the ground floor Pavilion Building 2
Pool table

Inclusions

Internet connection (100MB as standard)
Heating
Power
Personal effects insurance with a maximum total claim of £3,000 per year (you may need to take out extra insurance to cover an expensive item or to cover your laptop on other parts of the campus)
Assisted clean of public areas (kitchens, corridors and lounges)

If you plan on using a laptop for internet provider television (IPTV), you will need to buy a TV licence.
Contemporary Deluxe rooms
Deluxe rooms are larger than the standard bedrooms. In addition to the private bathroom, deluxe rooms also have a double bed, a larger study area, more storage and two armchairs
Contemporary Standard rooms
Each contemporary standard bedroom is 15 square metres – a lot larger than others you may have seen in other halls – with a private bathroom, a ¾ size bed and comfy chair in each room.
All rooms are finished to a high standard, and are fully fitted with fantastic storage and a large, well-designed study area.
Accommodation fees
Room type
Cost per week
Contract length
Cost per tenancy
Standard bedroom
£143.00
40 weeks
£5,720.00
Standard bedroom
£143.00
50 weeks
£7,150.00
Deluxe room
£157.00
40 weeks
£6,280.00
Studio
£166.00
40 weeks
£6,640.00
Studio
£166.00
50 weeks
£8300.00
Standard bedroom
£143.00

15 weeks (semester 1)

22 weeks (semester 2)

£2145.00

£3146.00
Frequently asked questions
How do I apply for accommodation?
Can I get accommodation for one semester?

We have a limited number of standard contemporary rooms available for students staying with us for one semester. For September semester, applications for will open at 12:00 noon on 13 March 2023 and will close at 12:00 noon on 26 June 2023. September semester contracts will commence on 2 September 2023 and end on 16 December 2023. Please note we are unable to facilitate early arrivals, prior to 2 September. If you are applying for January 2024 semester, the opening date for applications will be mid-November.

If you're ready to accept your offer to study with us at Heriot-Watt University, you can do so by logging into the accommodation application portal.
Are there rooms suitable for students with additional needs?
What is the accommodation guarantee?

We guarantee a place in the Jean Muir Student Village for all new full-time students (undergraduate and postgraduate) in their first year. You are covered by the guarantee if:

you are a new full-time student arriving in September
you have an unconditional firm offer of a place at the University
Direct entrants to levels 2 or 3 are included in this guarantee. Please note, the guarantee does not apply to students arriving in January.

If you are an exchange student (for example, Socrates or Erasmus exchanges), you are not covered by the guarantee, but you should still email bordershalls@hw.ac.uk at the accommodation office who will help you find accommodation on campus, if it is available, or elsewhere in Galashiels.
Can I get family accommodation?

Unfortunately, we don't have family accommodation on or off campus, all our rooms are single occupancy only. We recommend that you travel to Galashiels on your own first before making arrangements for your family to join you.
Key information
Accommodation Office (Scottish Borders Campus)
Phone

+44 (0)1896 892273 / 01896 892270

Email