We recognise that the term armed forces families covers a very broad and diverse range of people and backgrounds. This includes:
Current serving personnel
Spouses and partners of those serving
Children of those serving
Reservists
Ex-service personnel
Some of the issues you face will be similar to other groups we support whilst others will be very particular to your own situation. No matter what your situation is we are here to help.
In October 2019, Heriot-Watt University was awarded the Armed Forces Covenant for recognition of our support to defence and the armed forces community. By signing the Covenant, the University pledge to support staff who serve or who have served in the armed forces, their families, and ensure that they are treated fairly.
At the heart of this commitment is the recognition of the value that the armed forces community can bring to our workplace. We demonstrate this by offering a guaranteed job interviews for prospective employees who demonstrate they meet the essential criteria for the role and have a positive HR policy on Reserves that provides time off for training of Reservists.
In addition, as a university we are actively increasing the ways we demonstrate this support. We are hosting outreach events in conjunction with the Armed Forces, have helped set up the Armed Forces and Veterans Scottish Research Hub and are looking to apply for the Gold Covenant Award.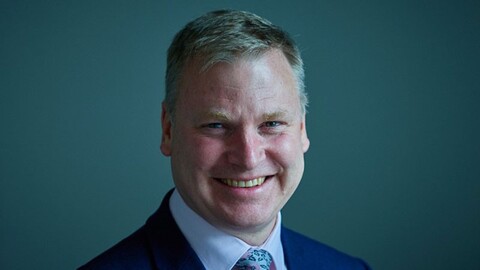 Professor Mark Biggs, Vice-Principal and Provost
"Heriot-Watt is proud to support service personnel and their families as they transition into life at university. We want to ensure you positively transfer the important skills you developed in the Armed Forces to achieve a qualification that will reimagine your future career. We also have established policies in place in respect of training, volunteering and general wellbeing support to help the employment of veterans young and old and we work with the Career Transition Partnership in order to establish a tailored employment pathway for Service Leavers."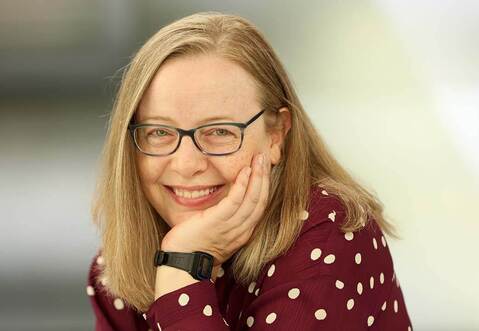 Tracey Kerr - Widening Participation Manager
"Hi there. My name is Tracey and I am the named contact for members of the Armed Forces community who want to study at university.
"I can provide tailored information, advice and guidance to serving personnel, veterans and early service leavers, partners/spouses and children of armed forces families on what university is like, what you can study and what support is available. This could include: -
What do you need to get into university
How to choose what to study
What financial support is available
What other support is available
What is it like to study as a member of the armed forces community
"I went to university as a mature student so know how it feels to come from a non-traditional background. I am happy to help where I can."
Email – wp@hw.ac.uk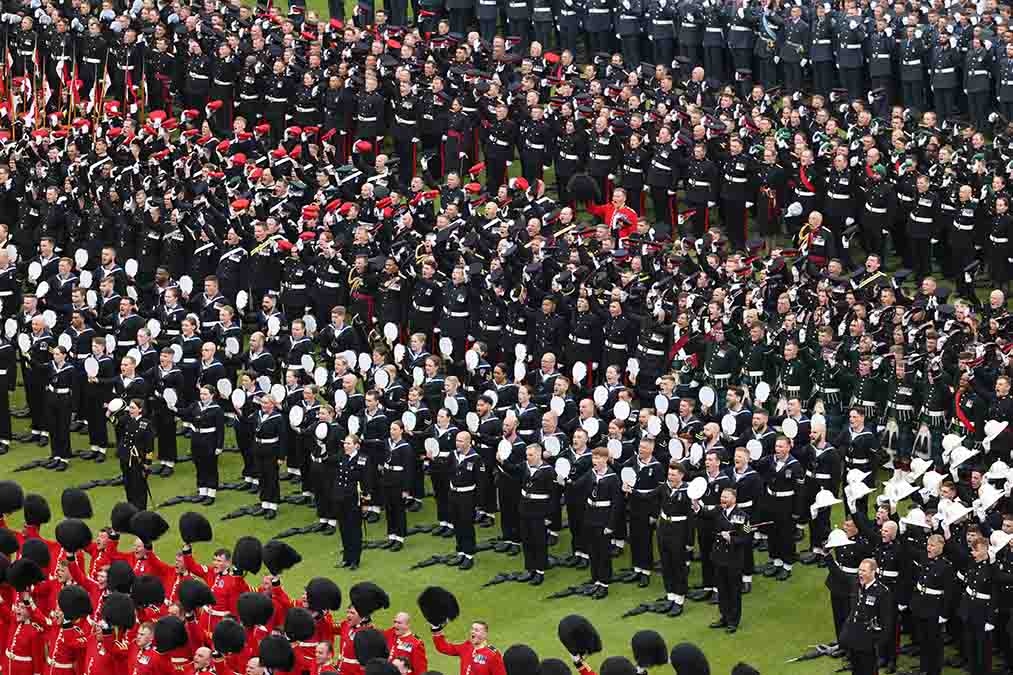 Mark Hamid, Senior Governance Officer at Heriot-Watt and Able Seaman in the Royal Naval Reserve, recently mobilised into full-time military service for a short period to take part in the Coronation of King Charles III and Queen Camilla.
"I first got an idea that I might be called up to take part in Operation Golden Orb (the codename for the Coronation) in January, with the event scheduled to take place on 06 May. I actually left my desk at Heriot-Watt three weeks before the big day to begin an intensive drill training package in Portsmouth but that period was only a small section of the preparations which had to be made, working with my team and HR colleagues, in the build up to my mobilisation."
Mark was the first member of Heriot-Watt staff to mobilise in recent memory so he worked closely with HR as they developed a process to support reservists to mobilise from the University in the future for assignments, which can vary in length from one month to over a year. These arrangements complement existing policies in place to support members of the Armed Forces community at the University.
On the day Mark joined other sailors from across the fleet - together with soldiers, airmen and representatives from around the Commonwealth - to march in the Coronation Procession which escorted the newly-crowned King and Queen from Westminster Abbey to Buckingham Palace in the iconic Gold State Coach.
"It was an amazing experience to take part in a moment of history - despite the rain on the day, marching along Whitehall and the Mall with 4,000 other service personnel and giving a resounding 'three cheers' for Their Majesties in the palace gardens was a unique and truly memorable occasion. It is great that the University has been so supportive in allowing me to take part."
Coronations are rare events, but reservists serve alongside their civilian jobs throughout the year – both in operational and ceremonial capacities – and the University provides support to allow them to meet their part-time commitments as service personnel; these normally include local training evenings and weekends as well as national courses, for which eligible staff can receive up to ten days of additional paid leave to enable them to attend.
As part of our ongoing commitment to the Armed Forces Covenant, we encourage any member of staff who has a connection with the Armed Force, whether as a Reservist, Volunteer, Veteran or Armed Forces Spouse or Partner declare this through ERP. Further details are available on our HR SharePoint.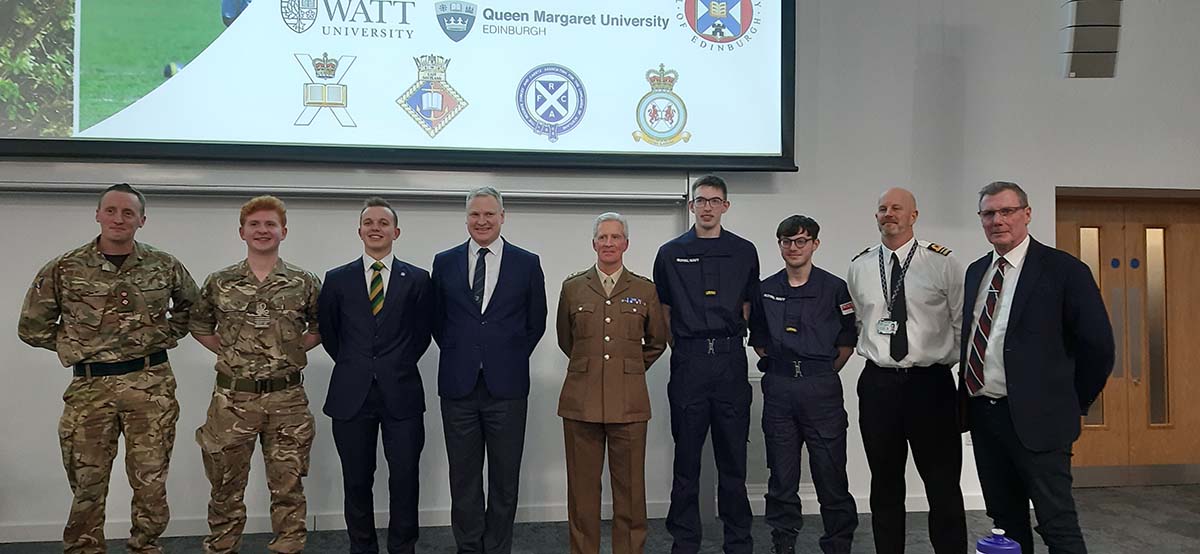 Inaugural Edinburgh Universities Military Education Committee (MEC) Talk
On Thursday 23rd February, Heriot-Watt University hosted the inaugural Edinburgh Universities Military Education Committee (MEC) Talk, with guest speaker Lieutenant Colonel Douglas Mackay.
Delegates also enjoyed presentations from student cadets of the Officer Training Corps (OTC), The University Air Squadron (UAS) and the East of Scotland Royal Naval Unit (URNU), who shared their personal experiences and the benefits they have received from becoming an officer cadet. Besides ski-trips, travelling, time at sea and learning to fly planes, the students emphasised the support they received and friendships they have made.
Besides representation from all Edinburgh universities, including Glasgow and Strathclyde, the successful event was attended by representatives from the army, navy, air force and Scottish Police Force.
The Edinburgh MEC is a partnership between the universities of Heriot-Watt, Edinburgh, Napier and Queen Margaret University to oversee, support and monitor the work of the University Service Units.
For more information, please contact Dr. Amos Haniff a.haniff@hw.ac.uk
Convener of the City of Edinburgh Military Education Committee