An ecosystem where innovation thrives
Solving global problems
GRID at Heriot-Watt is more than another innovation centre. It's an ecosystem that enables Heriot-Watt to drive global research, innovation and discovery (GRID).
The entrepreneurial talent, research excellence and learning experience extends beyond Heriot-Watt's campus locations in the UK (Edinburgh, Galashiels and Orkney), Dubai and Malaysia to solve global problems without borders.
Collaborative space
GRID at Heriot-Watt is a ground-breaking facility designed to create cohesion between leading academic research, business and entrepreneurship.
The £19m facility is equipped with immersive and gaming technologies, digital environments for mathematics and computer science and discovery-labs for engineering and physical science.
The Business and Enterprise Hub operates as incubator space for start-ups and entrepreneurs to co-locate and encourages their creative ideas to flourish.
GRID Edinburgh
GRID at Heriot-Watt offers collaborative space which encourages students, businesses and entrepreneurs to work together and solve society's biggest challenges.
Inspire and collaborate space
Collaborative space configured to challenge conventional teaching and learning
Flex Labs
Flexible discovery-labs for practical engineering and physical science
Maths Gym
Discrete learning space to exercise mathematics and solve complex algorithms
Digital Labs
Classroom space for mathematics, computer science and large-scale digital hackathons
Creative Studio
Customisable event space to inspire design thinking and creative flair
Gaming Studio
Digital environment to explore capabilities in gaming design and development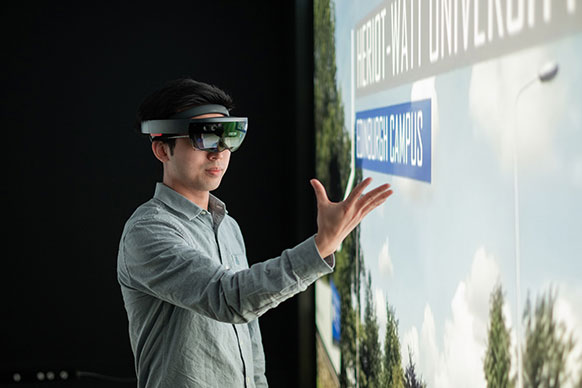 Imagineering Suite
Exploring the industry use-case for augmented, mixed and extended reality
Business and Enterprise Hub
An incubator space to nurture ideas and accelerate business enterprise
Partner Suite
Dedicated space for strategic planning and partnerships to form
Boardroom
An exclusive set-up for board meetings and strategic planning
Showcase Area
An open plan space to host high profile events