Clubs and activities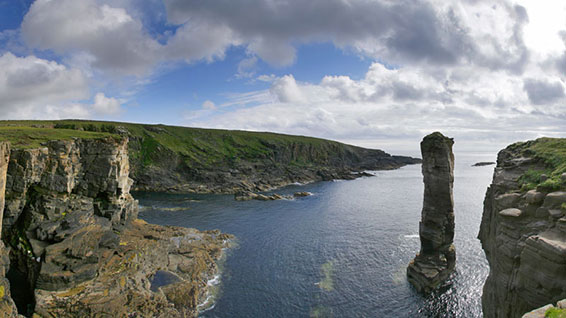 Orkney offers an almost unparalleled range of sports and leisure activities, generally at a modest fee. Being part of a small community means that facilities are easily accessed generally without any waiting lists, and local clubs always welcome new members.
The Pickaquoy Centre, based in Kirkwall is an excellent resource, as is Stromness Swimming Pool and Fitness Centre.
Diving
Orkney is the UK's premier dive location, with the wrecks in Scapa Flow providing a key attraction. While Stromness provides a base for much of the recreational diving, there are numerous sites of conservation interest scattered throughout the islands. There are several dive boat charters available including boats from Scapa Flow Charters and Scapa Flow Diving & John's Charters. The Diving Cellar in Stromness is a dive shop that also charters boats and can provide lots more information about Scapa Flow and diving.
Fitness and swimming
Stromness has a 25m pool with a fitness suite, there is a swimming club which has regular training sessions. Also available is the Zone in the Pickaquoy Centre sports and leisure complex in Kirkwall. The centre has a comprehensive range of fitness equipment for a wide range of activities (including instructors and classes), as well as a health spa with a sauna, steam room and jacuzzi.
Squash, tennis and badminton
There is a squash club in Stromness with an active league and a series of winter competitions. Tennis is available indoors at the Pickaquoy Centre. Orkney Badminton Association organise a league which runs from September to late March each year, usually in the Pickaquoy Centre.
Sailing
The Orkney Sailing Club is based on the harbour front in Kirkwall and offers RYA approved sailing courses with instructors and boats. The club also takes part in other local club regattas and hosts an inter-county regatta against Shetland every second year. Plenty of information about the club, membership fees, and the many activities and social events is available at their web-site.
The Stromness Sailing Club holds races on Thursday nights throughout the summer. The club are always looking for crew and experienced sailors can join and even borrow boats.
Angling
Orkney has some of Scotland's finest angling. There are a multitude of lochs (the largest are the lochs of Harray and Stenness) holding excellent stocks of wild brown trout and sea trout. Fishing in the lochs is free but as a courtesy you might like to become a member of the Orkney Trout Fishing Association (a non-profit making voluntary body dedicated to the preservation and enhancement of game fishing in Orkney).

Sea angling is done for skate, ling, halibut, haddock and cod, and boats are available to hire for this The Orkney Sea Angling Association can provide more information.
Surfing and wind-surfing
There is a small but very keen group of local surfers and wind-surfers, usually augmented by a number of Heriot-Watt students. Orkney has some of the best surf in Europe, especially the huge Atlantic waves at the Bay of Skaill on the west coast.
Golf
There is an 18 hole golf course a short distance from Stromness town centre (and near the sea), which is run by the Stromness Golf Club. The Orkney Golf Club in Kirkwall has a dramatic view over Kirkwall bay and Shapinsay. You can enjoy midnight golf at midsummer when the evening light only dims, and never goes completely dark. Visitors are always welcome, and golf clubs are available for hire.
Rugby
Orkney Rugby Club is Scotland's most northerly national league club, playing in national division 5, as well as an internal Orkney league. Training sessions are held every Thursday night.
Triathlon
Orkney Triathlon Club (OTC) are holders of the UK's most northerly triathlon. OTC also organise monthly duathlons throughout the winter and a weekly 10 mile time trial over the summer weeks.
Athletics
A variety of athletic activities are available, mostly organised through the Orkney Athletics Club, based at the Pickaquoy Centre. Track sessions take place on Wednesday nights. Over the winter there is a series of cross country races. The summer sees a series of 10km road races and the Hoy half marathon, which takes place in June.
Kayaking
Orkney Sea Kayaking Association aims to encourage safe sea kayaking around Orkney for paddlers of all levels.
Rock-climbing
Orkney has plenty of sea cliffs, especially on the west coast around Yesnaby. However, the most famous climb is on the island of Hoy: a 450ft sea stack called the Old Man of Hoy. Some people visit Orkney just to climb it. The Old Man of Hoy is for the experienced climber but there is less serious climbing available around the mainland. Hoy also has plenty of other cliffs including St. John's Head, which, at 1200 feet, is the highest in the UK.
Wildlife
There is spectacular cliff scenery all alone the west coast. Seals, otters, over 300 recorded species of birds, dolphins, porpoises and whales are all regularly seen. There are numerous archaeological sites dating back over 5,000 years.
Orkney offers an almost unparalleled range of sports and leisure activities, generally at a modest fee. Being part of a small community means that facilities are easily accessed generally without any waiting lists, and local clubs always welcome new members.