Royal Charter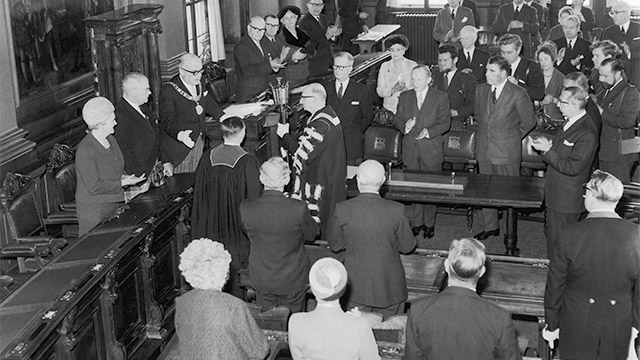 2016 marks 50 years since Heriot-Watt was awarded a Royal Charter. The Royal Charter, which gave Heriot-Watt its University status, was granted by Queen Elizabeth II on 4 March 1966. The Royal Charter was awarded in recognition of Heriot-Watt's long-standing heritage, strengths, and experience of delivering high quality education, and the anniversary will be an opportunity to grow and strengthen relationships with alumni, current students and staff and the wider community.
The University marked the anniversary with a series of events across its campuses:
Principal's Inaugural Lecture Malaysia, 12 January, 2016
Golden Years exhibition looks back to 1966, 4 February - 28 March 2016
Heriot-Watt Anniversary Service, 7 February, 2016
Heriot-Watt Chaplaincy Annual Lecture, 8 February, 2016
Principal's Inaugural Lecture: Engineering resources for future life: the need for radical innovation, 17 February, 2016
Year of the Monkey - A Heriot-Watt Celebration of the Chinese New Year, 23 February, 2016
Launch of the Distinguished lecture series BP Economist Dale Spence, 15 March, 2016
Aleksandra Drizo's Inaugural lecture, 30 March 2016
Heriot-Watt sponsoring a public debate on the topic of Climate Futures: What will happen to future climates? at this year's Edinburgh International Science Festival. The panel discussion will be chaired by Professor Dorrik Stow from the Institute of Petroleum Engineering at Heriot-Watt., 31 March 2016
Thought Leadership series - Growing Business an interview with Jim McColl,12 May - 2016
End of year concert – Mozarts requiem and Beethoven's 5th symphony performed by the University Choir and Orchestra, 14 May 2016
6th International Conference on Lean Six Sigma 30 - 31 May 2016
Staff Garden Party, 4 June 2016
Performance Management Association (PMA) Conference 26 - 29 June 2016
1966 Graduating Year Lunch, 17 August 2016
Future of Utilities – Utilities of the Future seminar

22 August 2016
Energy system challenges of heat decarbonisation 14 September 2016
Norwegian Receeption 2016 for alumni in Norway at the British Embassy in Oslo, 15 September 2016
Norwegian Business Breakfast 2016, 16 September 2016
Lyell Centre for Earth and Marine Science and Technology opening 18 October 2016
Opening of Oriam, 4 November 2016
Christmas Carol Concert, 15 December 2016
The 50th anniversary celebrations also saw the launch of a new annual appeal to encourage philanthropic giving for the benefit of our students and their learning experience at Heriot-Watt.
It also allowed the University community and stakeholders to consider the University's historic development, both since the granting of the Charter in 1966 and indeed back to the University's origins in 1821 as the world's first mechanics institute.
As well as reflecting on the achievements of the past, the anniversary was an opportunity to showcase the University's aims and potential for the next 50 years and to look forward to the bicentenary of the mechanics institute foundation in 2021.
A word from the Principal
"The granting of the Royal Charter is a remarkable milestone in our University's story and is also a great opportunity to reflect on our future. We will be marking this significant date by acknowledging our rich heritage and talking more about the contribution Heriot-Watt education and research is making to society and our world."
Principal, Professor A. Richard Williams