ORA House: Organic Resilient Adaptable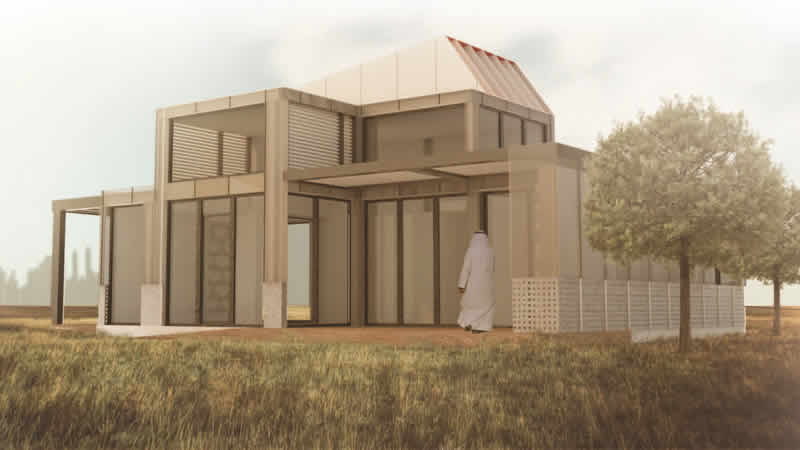 Heriot-Watt are participating in the first ever Solar Decathlon Middle East (SDME) competition, and our multi-disciplinary team of staff and students led by Shameel Muhammed has been making commendable strides in the development of a solar home.
ORA, standing for Organic, Resilient and Adaptable, is conceived as a synergy of ecosystems that stretches between material systems, passive strategies, vernacular architecture and advanced digital technologies - all contributing towards one goal: Sustainability and Energy Efficiency.
The extensive SDME submission requirements and the need of design integration required an exclusive setup where by students and faculty could work on the project alongside their respective academic commitments.
Super Studio
Super Studio has been setup to facilitate this and will run for the one academic year. Its primary aim is to deliver the design development of the ORA house. In addition to mentoring, Super Studio intends to give key inductions and workshop programs to provide the team with necessary skills to undertake the design and build of the house. Internship programs will be offered to students between semesters through which investigation of specific design components will be undertaken.
A first iteration of the internship program was completed in the summer of 2017.
Solar Decathlon Middle East
The Solar Decathlon is an international competition created by the U.S. Department of Energy in which universities from all over the world meet to design, build and operate a grid-connected, solar powered house. The first ever Solar Decathlon Middle East exhibition will be from 15-25 November 2018 at Mohammed Bin Rashid Solar Park, Dubai.
Dissemination of the underlying message of sustainability is vital for the competition. The team has setup various social media platform to assist with the dissemination:
Team Photo
Video Presentation