Prof. Gillian Thomson
BSc (Hons), PhD
Role

Professor

Email

Address

JN 2.12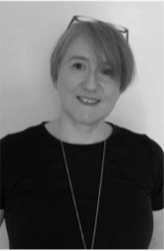 About
Teaching Group
Chemical & Process Engineering
Roles
Interim Deputy Head of School (EPS)
Director of Learning & Teaching (EPS)
Associate Principal (Access & Inclusion)
Disability Liaison contact (EPS)
External
QAA (Scotland) ELIR reviewer
Biography

Professor Gillian Thomson is Director of Learning & Teaching (DLT) and lectures in Chemical Engineering in the School of Engineering & Physical Sciences. Following a period as Head of Chemical Engineering Teaching, she spent two years as Director of Academic Quality in the School of Engineering & Physical Sciences before being appointed as DLT in 2016. She has worked at Heriot-Watt since 1998 and has been involved in teaching various aspects of chemical engineering at both undergraduate and postgraduate level, including environmental science and sustainability.

Gillian's key enthusiasm is inspiring student learning. Students are encouraged to form their own opinion on current thinking, in a constantly evolving field. The aim is to foster independent learning alongside an ability to apply this learning, encouraging collaboration within the class to inspire greater interest in the topic, but also encourage the students to take responsibility and accountability for the wider implications of their engineering decisions.

Her scholarship activities are focused on the development of teaching sustainability in Higher Education, specifically to engineers, incorporating how current thinking can be applied and adapted in a practical sense. Her expertise has had considerable impact within the university and across the sector, as evidenced in national and international conference presentations, publications and learning enhancement projects.

Gillian is a Chartered Scientist and Fellow of the Higher Education Academy and has, for a number of years, been involved in a variety of outreach activities promoting science, engineering and technology subjects to school pupils and the public through school activities and science festivals. She has held an ExxonMobil Engineering Teaching Fellowship with the Royal Academy of Engineering and was awarded an ExxonMobil Teaching Excellence Award and Heriot-Watt Graduates Prize.

Recent work has impacted markedly on scholarship and the student learning experience in areas such as the development of graduate attributes and enhancement of learning through the development of "learning through doing" approaches, and leadership of University-wide projects including the development of the seven academic programmes for Graduate Apprenticeships.

In January 2020, Gillian was appointed as Associate Principal (Access & Inclusion). This role supports the Deputy Principal (Learning and Teaching) in the delivery of the University's Access and Inclusion Strategy as Heriot-Watt continues to focus on setting and achieving ambitious targets in relation to inclusion in higher education. Gillian acts as the University's senior academic lead for areas of activity (strategic and operational) in this area, as well as building the University's external profile and reputation for its work.