Dr Georgina Margaret Rosair
BSc, MSc, PhD, MRSC
Role

Professional Specialist (Professional and Managerial)

Email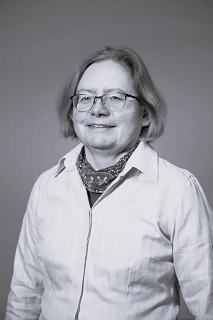 About
Teaching interest
General inorganic chemistry including practical chemistry, coordination chemistry, small molecule X-ray diffraction
Additional roles
Coordinator demonstrator rota
Responsible person for year 2 and 3 Inorganic Chemistry practical course
Discipline Group
Chemistry
Biography

Dr Georgina Rosair is a Scientific Officer specialising in X-ray diffraction, in particular single crystal diffraction. She studies the structures of molecular compounds made by chemists at Heriot Watt and their collaborators such as metallacarboranes, organometallic and organic small molecules with applications in photo catalysts and photosensitisers and compounds of pharmaceutical interest. Her role includes powder diffraction on materials used in carbon capture, and metal deposition on thin films. She is also involved in teaching inorganic chemistry, particularly practical laboratory courses.
Research

General inorganic chemistry including practical chemistry, coordination chemistry, small molecule X-ray diffraction
Publications

E. Fazekas et al., Amino acid-derived bisphenolate palladium complexes as C-C coupling catalysts. DALTON TRANSACTIONS 50, 17625-17634 (2021).
R. J. Jeans, G. M. Rosair, A. J. Welch, C,C '-Ru to C,B '-Ru isomerisation in bis(phosphine)Ru complexes of [1,1 '-bis(ortho-carborane)]. CHEMICAL COMMUNICATIONS 58, 64-67 (2021).
D. T. Jenkins et al., Polymetallic Group 4 Complexes: Catalysts for the Ring Opening Polymerisation of rac-Lactide. CATALYSTS 11, (2021).
G. M. Rosair, M. Y. Stogniy, Carborane: Dedicated to the Work of Professor Alan Welch. CRYSTALS 11, (2021).
C. G. Thomson et al., Continuous-flow synthesis and application of polymer-supported BODIPY Photosensitisers for the generation of singlet oxygen; process optimised by in-line NMR spectroscopy. JOURNAL OF FLOW CHEMISTRY 10, 327-345 (2020).
Personal site >