Ahad Butt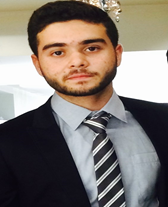 Why did you decide to study at Heriot-Watt University?
After completing my O-levels and researching all the available options, Heriot-Watt University had the highest score in terms of student satisfaction, with a promising group of highly qualified professors. Furthermore, the institute was recommended by some of our seniors who had completed undergraduate and postgraduate studies, later finding jobs with some of the leading multi-national firms in the Middle East. They spoke very highly about the University and how it helped them achieve their goals.
What did you enjoy most about the Civil Engineering programme?
From the first year itself, students gain a first-hand experience into the practical life at a construction site and learn how a design office works. Students are encouraged to build confidence with the help of presentations and group works, that helped develop their interpersonal skills, which has helped me a lot in my current job.
What will being a graduate of Heriot Watt university do for your future?
Being a graduate of this institute has already helped me build contacts within the industry. Three years on from graduation, I am working for a firm handling one of the major projects currently under construction in Dubai. The offer for this job was received through the University careers advisory service, and by the grace of Almighty and with the help of the University, I've been working as a project engineer for almost two-and-a-half years. I am confident that in the future, this degree will help me gain recognition by other leading firms.
What's been the highlight of your time here so far?
My final year research project. With the assistance of my supervisor, I was able to conduct research on polymer-modified bitumen, and gain first-hand experience of various forms of laboratory testing. The project idea suggested by my supervisor offered a perfect approach to using waste plastics and rubber, which is one of the greatest challenges faced globally, particularly regarding sustainability in the construction industry.
Describe Heriot-Watt in four words
Your wings to fly.