New campus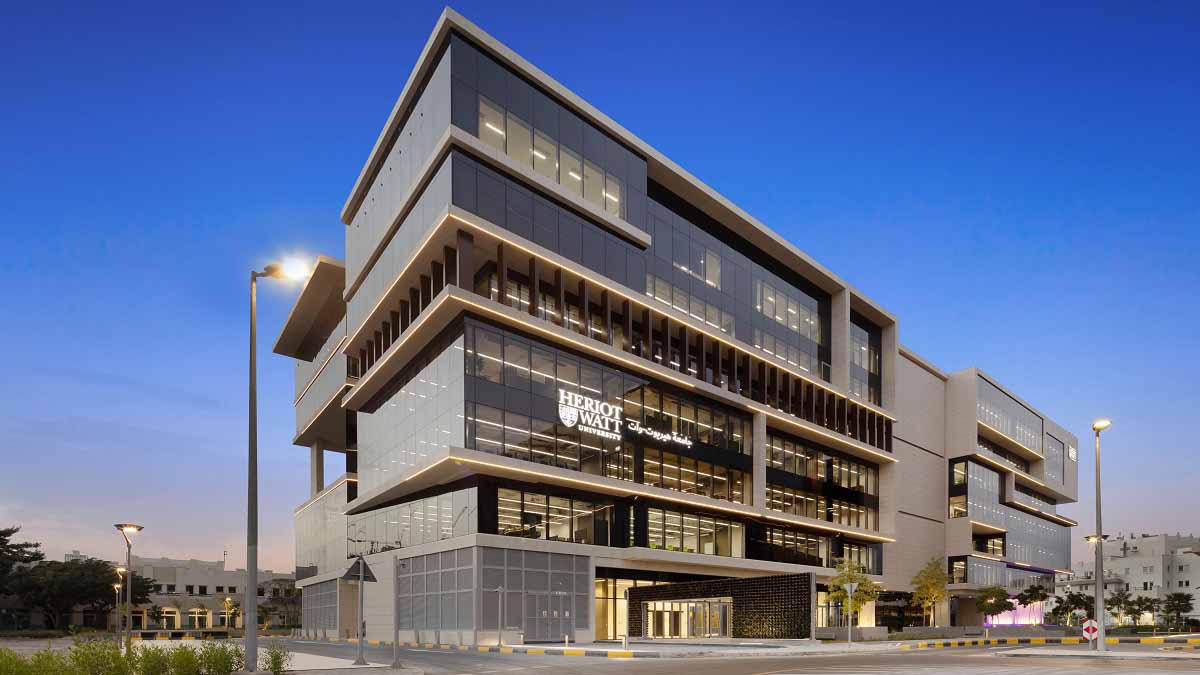 As the first British university to set up a campus in Dubai in 2005 and having received a five-star accreditation by the Knowledge and Human Development Authority (KHDA), for three consecutive years, Heriot-Watt University Dubai has established itself as a pioneer in the higher education market in the UAE. The University's reputation for world-class teaching and practical, leading-edge research combined with its strong links to business and industry, has seen it attract a thriving population of undergraduate and postgraduate students.
Heriot-Watt University Dubai offers an extensive range of programmes and disciplines, spanning postgraduate and undergraduate courses. Heriot-Watt graduates are highly employable and sought after by the best organisations worldwide, with over 90% in graduate level jobs or further study within six months of graduation.
State-of-the-art facilities
Classrooms have been designed to be interactive. Rather than traditional lecture theatres, the new campus houses collaborative lecture theatres which offer booth-style seating to encourage small-group discussions and group challenges at appropriate points; pod rooms which are designed to offer group-based learning and the sharing of learning between teachers and peers via interconnected PCs and screens; and teaching and seminar rooms which have been designed as flexible spaces for a range of classroom learning and teaching activities.
The many laboratories and workshops cover automotive, chemical, civil, mechanical, electrical, energy, robotic and structural engineering, and offer facilities for students to learn through practical application as well as through formal timetabled classes. The campus has a psychology laboratory that supports psychological experimentation and a very large IT laboratory for computer scientists as well as others. Design studies are also supported with studios and a design hub catering to the current and future needs of those preparing for a career in fashion, architecture, and interior design. All spaces come furnished with modern technology and equipment.
Edinburgh Business School
The new campus also features the Watt Inc., a business incubator run by the Edinburgh Business School, which will develop and support founders and start-ups, as well as the Bloomberg Trading Room where students can work with a simulated market environment using actual, real-time data, and a variety of functions simulating both trading and non-trading workflows.
The campus has an array of common areas where students have access to essential services and amenities, including a dedicated student council hub; social learning spaces for independent and group study; an engaging library stocked with both physical books and online resources; and a 'maths gym' for maths support, in addition to the central Student Services Centre for student administration. The building also features a multipurpose venue, aptly named the Town Hall, with a cafeteria and auditorium-style seating suitable for hosting open days, presentations, and other interactive events.
Focus on all-round development
Alongside onsite COVID-19 protocols, there is an additional focus on ensuring overall student wellbeing. Heriot-Watt firmly believes that staying healthy, both physically and mentally, means students can also remain focused on their academics, achieve their full potential, and enjoy their student life to the hilt. To this end, the campus offers an activity studio where dance, fitness, and yoga classes can be offered when permitted. This is in addition to student wellbeing services that are offered to students seeking guidance and support to address personal challenges impacting their wellbeing.
To help drive the growth and transformation of the Dubai campus, Heriot-Watt has recruited more than 100 new professional services staff over the last one year. Providing services as diverse as marketing, finance and academic administration, Professional Services provides the infrastructure that helps Heriot-Watt University run effectively, and support the delivery of its strategic aspirations.
Bicentenary year
The opening of the new campus in Dubai coincides the bicentennial anniversary of Heriot-Watt University this year. Founded in 1821 as the world's first mechanics institute in Edinburgh, Heriot-Watt University has transformed itself into a globally, connected university with campuses in the UK, Dubai and Malaysia, and continues to be a pioneer in higher education and research.
Dubai Knowledge Park location
The Dubai Knowledge Park sits adjacent to the Dubai Media City as well as the Dubai Internet City and boasts excellent transport links such as the Dubai Metro and Tramway. The neighbourhood is home to more than 500 businesses and has established itself as a centre of excellence for higher education and professional development.
Accommodation
See here for details on our accommodation offerings across Dubai.