Dubai & the United Arab Emirates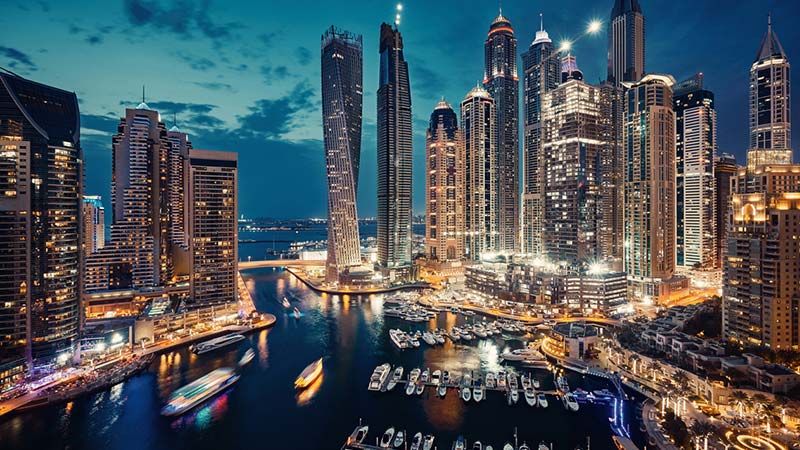 Dubai is one of the most sophisticated, futuristic, connected and cosmopolitan cities in the world. Its residents come from more than 180 different countries and 105 different nationalities study with us at our Dubai campus.
Global tourism and entertainment hub
Dubai is a booming tourist destination with an array of options for shopping, eating, socialising and entertainment. Whether you prefer hiking, biking, swimming, desert safaris, jet skiing, skydiving or theme parks, there will be something for you.
A safe city
Dubai is one of the safest cities in the world and the UAE is ranked the world's 2nd safest country. Dubai is virtually crime-free as the Dubai police ensure maximum safety.
A modern design capital
Dubai is the modern art and design capital of the Middle East. It is home to the Dubai Opera, Dubai Design District and Burj Khalifa to name a few of the city's most iconic infrastructures.
Global business hub
Dubai is a centre of trade and commerce for the Middle East and the wider world corporations, and holds many global business events.
Employment
Dubai will soon host Expo 2020 with a large number of job openings. As a student in Dubai, opportunities exist for internships, and part-time work, as well as for full-time careers in a variety of professions.
Global knowledge hub
Dubai is an international knowledge hub giving students from around the world the opportunity to gain internationally recognised qualifications. As the first British university to open in Dubai International Academic City, Heriot-Watt is at the heart of this mission.
Integrated transportation
Dubai is a world transport hub connecting the east and west. Within the city it is easy to get around using the integrated public buses, water buses, trams, and metro system. Taxis are also plentiful and good value.