Thripthi Gee Raj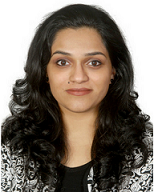 Why did you decide to study at Heriot-Watt University?
Heriot-Watt University provided the best option in line with my interests through MSc in CECM program. I strongly believe that this university has a great reputation for results and success and it must be attributed to the staff and set up.
What do you enjoy the most about your programme?
The well structured methodology, knowledgeable faculty and refined subject content.
What will being a gradute of Heriot-Watt do for your future?
Being awarded a Masters with Distinction from Heriot-Watt University has boosted my confidence and broadened my knowledge. I look forward to undertaking new opportunities and successful delivery of projects related to my field of work.
What's been the highlight of your time here so far?
The overall experience has been very rewarding. To highlight, the encouraging and unfailing faculty support contributed to my personal and professional growth.
Describe Heriot-Watt University in four words:
The best educational experience