Interview with Professor Mercedes Maroto-Valer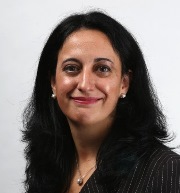 Professor Mercedes Maroto-Valer
Professor Maroto-Valer is the first Robert Buchan Chair in Sustainable Energy Engineering at Heriot-Watt University. She is Head of the Institute for Mechanical, Processing and Energy Engineering (School of Engineering and Physical Sciences) and leads the pan-University Energy Academy. She is also Director of the EPSRC funded Centre for Innovation in Carbon Capture and Storage (CICCS) and a member of the Directorate of the Scottish Carbon Capture and Storage (SCCS).
With an international research reputation at the interface between energy and the environment, Mercedes leads a team working on developing novel chemical and engineering solutions to meet the worldwide goal of cost-effective and environmentally-friendly energy, with particular emphasis on clean energy technologies, including carbon dioxide capture, transport, storage and utilization.
Mercedes is Editor-in-Chief of Greenhouse Gases: Science and Technology and sits on a number of advisory and professional boards. Her outstanding contributions have been recognised by Fellowship of the Royal Society of Chemistry (FRSC), the Institute of Chemical Engineers (FIChemE) and now the Royal Society of Edinburgh (FRSE).
What is your favourite virtue?
Courage to pursue what is right.
What is your favourite vice?
Home-made meals.
What are your favourite qualities in a colleague?
Colleagues who strive to do their best.
What is your own best quality?
The glass is always full. This, though, can lead to disappointment.
What is your key competence?
Bringing people together to achieve a common goal.
What do you most appreciate about academia?
The opportunity to inspire future generations.
What is your main fault?
Always look for the best in people- sometimes it is also known as naivety.
What is the best part of your career so far?
My team. I'd not be here without them.
What is your idea of happiness?
Family time, even if includes running a 'taxi service' with my husband!
What is your idea of misery?
Fail to prepare – prepare to fail.
What is the country in which you would most like to live?
A country without internet access, emails, wi-fi.
Just a good old fax machine!
Who is the person whose thinking influences you the most?
My partner in crime.
Who is the person you most admire (can be fictional or real, current or historical)?
Rosalind Franklin - so many know what she did, and yet she remains largely unknown.
What is the natural talent you wish you'd been born with?
Telepathy - I can think of occasions when it would be very useful.
What is your motto or words to live by?
Luck is when opportunity meets preparation.