Rapid Manufacturing Design Studio (RMDS)
The IMPEE Rapid Manufacturing Design Studio (RMDS) focuses on a broader way of designing rather than a specific field or niche within design. The RMDS is geared to stimulate creativity and importantly it enables the physical realisation from scientific principles. The RPDS is located in the James Naysmith workshop and comprises the following rapid prototyping machines:
(1) Fused Deposition Modelling (FDM) machine, Fortus 400MC
The Fortus 400mc allows manufacture of multiple production-grade thermoplastics in-house for conceptual models, functional prototypes, manufacturing tools, and end-use parts. Only the ULTEM* 9085 (high temperature) and PC-ABS (bio compatible) blend is currently available in RMDS.
Systems specifications: Build Envelope (XYZ) - 406 x 355 x 406 mm Layer thicknesses: 0.330 mm - 0.127 mm Achievable accuracy: Parts are produced within an accuracy of ± .127 mm (± .005 in.) or ± .0015 mm/mm (± .0015 in/in), whichever is greater. (Accuracy is geometry dependent. Achievable accuracy specification derived from statistical data at 95% dimensional yield.)
Material specification:
ULTEM 9085 offers a well-vetted high-performance thermoplastic. Advanced applications include functional testing, manufacturing tooling and direct digital manufacturing of end-use parts — including aircraft interior components and ductwork. This high-performance FDM thermoplastic expands the use of additive manufacturing into applications that demand thermal and chemical resistance. ULTEM 9085 works with breakaway support material and is available in tan at the RMDS. (See more at: https://www.stratasys.com/materials/fdm/ultem-9085#sthash.OaDDUJ7D.dpuf)
PC-ISO is the strongest, most heat-resistant biocompatible material available with FDM technology. It is gamma and EtO sterilizable and complies with ISO 10993 and USP Class IV. (See more at: https://www.stratasys.com/materials/fdm/pc-iso#sthash.SyblYCKa.dpuf)
Fused Deposition Modelling (FDM) machine, Fortus 400MC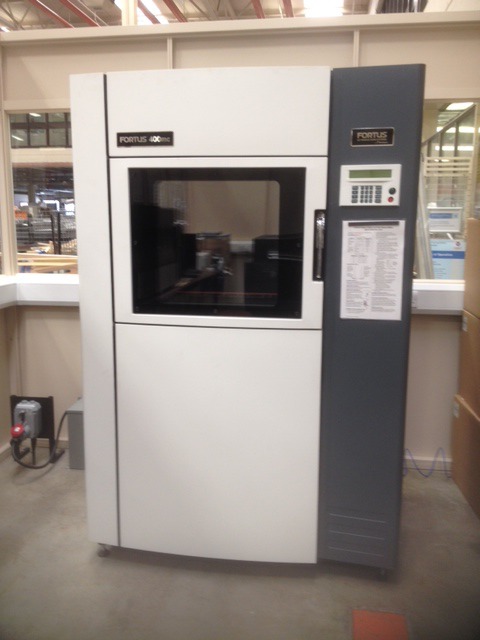 (2) Multi-material polyjet CONNEX 500 3D printer
The Objet500 Connex offers multi-material 3D printing in a build envelope to support large models or many parts.
Simultaneous multi-material PolyJet technology allows 3D printing of models with up to 14 different materials in a single job. This provides a realistic rendering of the final product. The system is ideal for designers and engineers looking to effectively demonstrate the varying material components in complex or assembled products. Net Build size: 490 × 390 × 200 mm Layer thickness: Horizontal build layers down to 16-microns Build resolution: X-axis: 600 dpi; Y-axis: 600 dpi; Z-axis: 1600 dpi Printing Modes:
Digital Material (DM): 30-micron (0.001 in.)
High Quality (HQ): 16-micron (0.0006 in.)
High Speed (HS): 30-micron (0.001 in.)
Accuracy: 20-85μm for features below 50mm; Up to 200μm for full model size (for rigid materials only, depending on geometry, build parameters and model orientation) Input Format: STL, OBJDF and SLC File
Base materials include:
Transparent materials for prototyping clear and tinted products with great dimensional stability and surface smoothness
Rubber-like materials (Tango family) suitable for a range of applications requiring non-slip or soft surfaces
Rigid Opaque materials (Vero family) in a variety of colours including white, grey, blue and black
Simulated Polypropylene materials with toughness and durability to create smooth prototypes with living hinges, flexible closures and snap-fit parts
Composite Object Digital Materials include:
Digital ABS (RGD5160-DM fabricated from RGD515 and RGD535) simulates ABS engineering plastics by combining high-temperature resistance with toughness. Digital ABS2 matches those properties and provides superior rigidity and toughness in walls thinner than 1.2 mm (.047 in.)
High Temperature material for advanced functional testing, hot air and water flow, static applications and exhibition modelling
Transparent shades and patterns
Rigid opaque shades
Different shore value rubber-like materials
Polypropylene with improved thermal resistance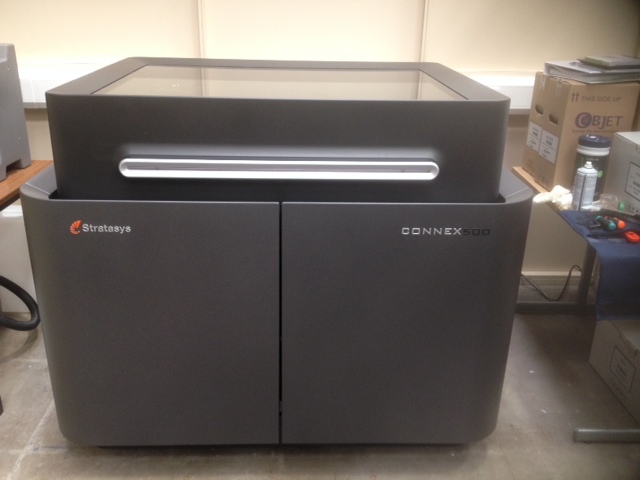 (3) Monochrome polyjet OBJECT 24 3D printer
The Objet24 is the first desktop system to print realistic models with small moving parts, thin walls and smooth, paintable surfaces.
Using PolyJet 3D printing technology, the Objet24 features 28µ print layers and a 240 x 200 x 150 mm tray size. The Objet24 is ideal for designers and engineers looking to produce highly accurate models for visual aids, fit and assembly testing and functional applications.
The Objet24 uses rigid white opaque material (VeroWhitePlus), which is perfect for general-purpose 3D modelling and prototyping. Combining dimensional stability and high-detail visualization, this photopolymer closely resembles the look of the end product. It can be painted, drilled, machined or used for vacuum forming.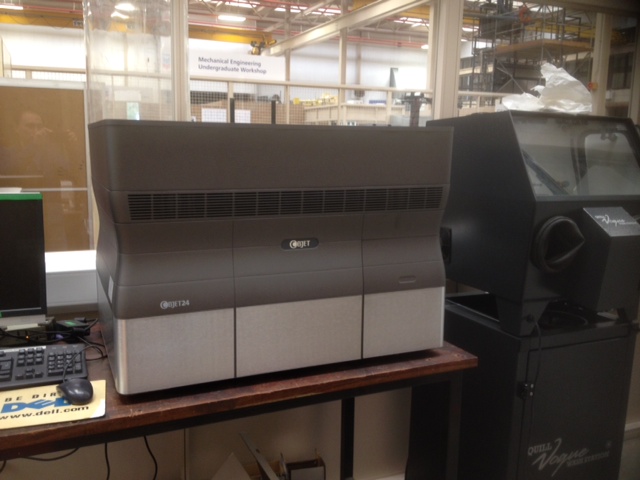 (4) MakerBot Replicator 2X
RMDS has two MakerBot Replicator 2X machines. These are specifically for student projects however they are also suitable for building functional real parts. The MakerBot uses the FDM technology.
Build Volume: 24.6 L x 15.2 W x 15.5 H cm Layer Resolution: 100 microns Positioning Precision: XY: 11 microns; Z: 2.5 microns Input Format: STL, OBJ, Thing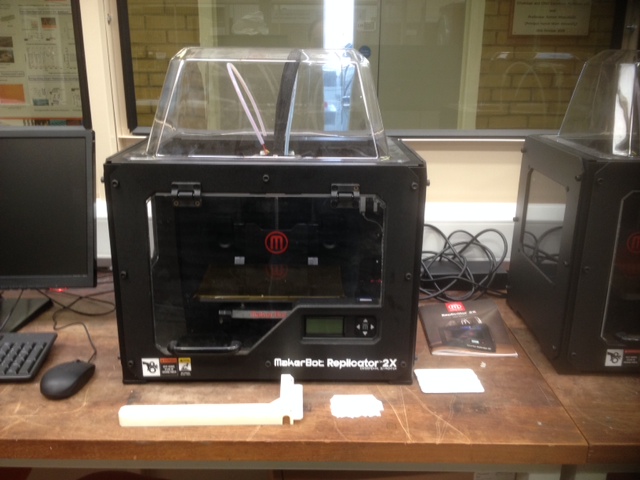 (5) Roland MDX40 rapid machining centre
The MDX-40 3D Milling Machine is to create high-quality prototypes, parts and models from resins such as chemical wood and modelling wax. It allows industrial designers to perform a full range of subtractive rapid prototyping (SRP) applications in-house, eliminating the added time and security risks associated with outsourcing. It's a perfect tool for shortening the product development cycle and bringing complex product designs quickly to market.
The MDX-40 supports most popular 3D CAD/CG software packages and comes complete with Roland's own MODELA Player 4 CAM software and Virtual MODELA CAM simulation software. MODELA Player 4 controls an optional Rotary Axis Unit and supports industry standard file formats including STL, IGES*3 and DXF*4.
Build Volume: 305 (X) x 305 (Y) x 105 (Z) mm