Academic Quality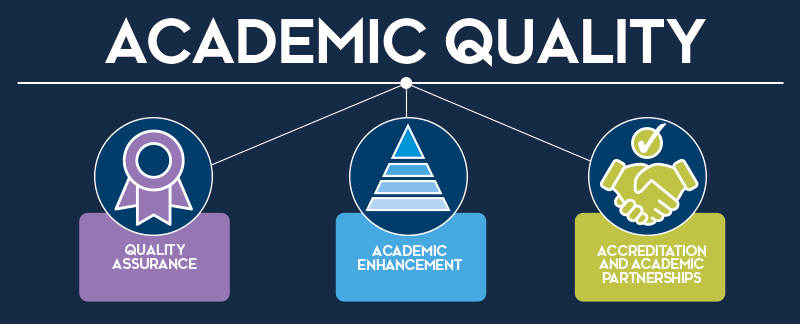 Based within Registry and Academic Support, the Academic Quality team aims to provide a professional support service across the global University. Please see our Academic Quality structure chart for an overview.
We are responsible for a number of policies and procedures in relation to three main function strands:
Quality Assurance
Academic Enhancement
Academic Partnerships and Accreditation
The Learning and Teaching Policy Bank provides an alphabetical list of all policy, procedure and guideline documents and can be found on our Academic Enhancement section of the website. It is intended as a one stop shop for learning and teaching policies and procedures.
To find out more about our team, including key activities within each function strand, take a look at our Academic Quality strands leaflet.. More detailed information about the remit of each team member can be found in our AQ roles and responsibilities summary.
An overview of how we manage quality, academic standards and academic risk and how we enhance the student learning experience can be found in the following documentation.
Getting ready for the Academic Year 2022/23
We've produced an overview of key information for staff, which we think will be relevant to you in getting ready for 2022/23 and indeed throughout this academic year.
Key information
Margaret King
Job title

Head of Academic Quality

Email