Malaysia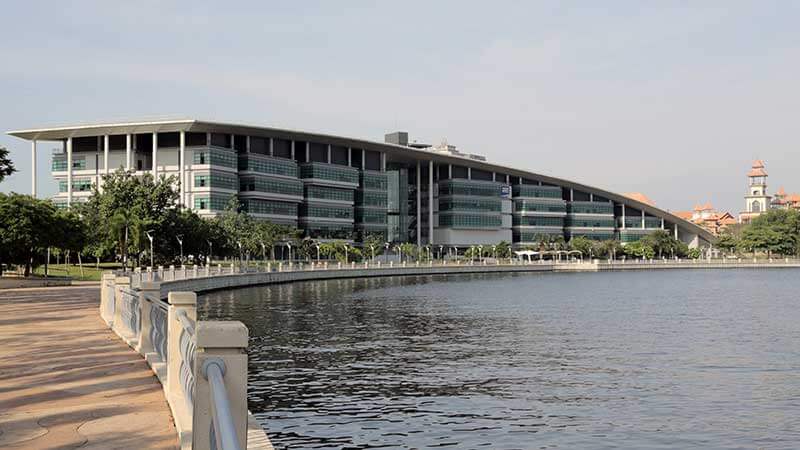 Floor plans
Tan Sri (Dr) Yeoh Tiong Lay Library
For opening hours, please see the opening hours page.
The two-storey library caters for different student learning styles and preferences. The well-designed library, overlooking a peaceful lake, is an appealing place to learn and study. The Library has a total seating capacity of 595, with 12 PCs available for students to use. Quiet study rooms have been provided for individual study, and discussion areas are provided for collaborative learning. The 365 Room is open 24 hours a day, for students who wish to study late on campus. The Wheesht Room, which is also open 24/7, is provided for students who wish to study in a silent environment. Our library offers a wide range of traditional and electronic resources. The selection of books and journals available in the library are updated throughout the academic year in response to requests from students and lecturers.
The library provides 307 study spaces, which include:
47 individual carrels in an open area
18 individual carrels in the silent study room
4 discussion rooms:

Fleming Room: 5 persons
MacLaurin Room: 5 persons
Bell Room: 10 persons
Miller Room: 10 persons
The 365 Room
The 365 Room is located outside the library. The 365 Room is open 24 hours a day, 7 days a week, 365 days a year and has 121 study spaces, including a silent PC room with 12 PCs (high performance computers) and 5 individual carrels.
Wheesht
Next to the 365 Room is Wheesht, the 365 Silent Room. Wheesht has 76 individual study carrels.
IT & Group Study Area
The IT & Group Study Area is designated for collaborative learning with group study and discussion areas. This room has 91 study spaces.
PC labs
Microsoft Office, SPSS, Minitab, EndNote and R are available in all PC labs.
Level/Wing
Lab 1 (42 High Performance PCs; 1 MFD) - E1.14
Level 1, East Wing
Lab 2 (24 Standard PCs) - E1.15
Level 1, East Wing
Lab 3 (44 Standard PCs) - W1.04
Level 1, West Wing
Lab 4 (43 High Performance PCs; 1 MFD) - W1.03
Level 1, West Wing
Book a room
Group Study Rooms in TSYTL Library and ITGSR can be booked in advanced through Resource Booker
How to book
Go to the Student Portal and Choose Book Study Spaces
Login using your HWU Username and password
Select Library Group Study Spaces [Student] > Choose your preferred room based on the room capacity
Fill up required details > click Book
You will receive an email confirmation about your booking.
Rooms can be booked online up to 3 days in advance and are available for 2 hours per day / per group.
For Library Rooms, keys will be issued at the IS Helpdesk and student ID card will be required for swapping with room key and for identification purposes upon key issuance.
Room key and IT items (if any) must be returned promptly by the end of the booking time.
You can cancel your booking anytime through Resource Booker under My Bookings.