Scottish Borders Campus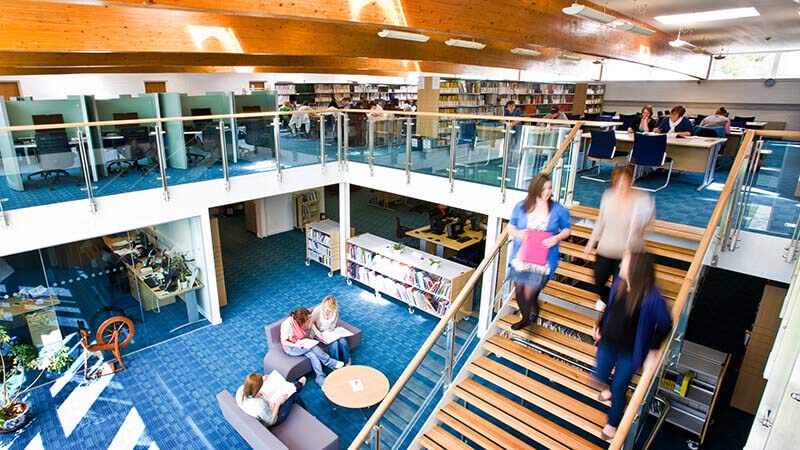 The Scottish Borders Campus is open for 66 hours each week in Semester time, giving you plenty of time to access the books, journals and other materials, and use other services.
With over 100 individual and group study places, as well as bookable Conference and Seminar Rooms with PC and projection facilities, there is plenty of space for you to study on your own, or work collaboratively. Wireless networked laptops can be borrowed to use for group work on the Ground Floor or First Floor Seminar Rooms.
There is wireless throughout the Library and Campus, and networked PCs and iMacs give access to University-licensed software, databases and journals, as well as other online resources. Networked Multi-Function Devices (MFDs) provide print, copying and scanning facilities, and a binding machine is provided for a professional finish for your essay, project or dissertation.
Floor plans
The Scottish Borders Campus Library is on two floors.
The Ground Floor, shown below from the entrance, includes the following main locations (from left to right):
Library Catalogue
IT Helpdesk phone
Reference Collection
Newspapers
Current Journals
Start of main stock collection
Self-service kiosk
Reprographics area: MFDs (Multi-Function Devices), guillotines, staplers and document binder
Ladies and Gents/Accessible toilets
New Stock Display
Service Desk
"3 Hour Loan" Collection
"Fashion Intelligence" Collection
Not shown on the picture are the Assisted Technology Room (with 5 PCs), Conference Room 1 (with 10 PCs) and Conference Room 2 (with 12 PCs and a SMART Board). All these rooms are bookable.
A more detailed view of the panorama above may be seen in the downstairs section of the virtual Tour of the Campus Library.
The First Floor, the open part of which is a quiet individual study area, includes the following main locations:
Continuation of main stock collection
Journal backfile
FE Enquiry Desk
HE Enquiry Desk
Study pods
PCs for individual study
3 bookable Seminar Rooms
The upstairs section of the virtual tour of the Campus Library is also available.
PC labs
Some of these rooms are used for teaching - check first. Rooms are open when buildings are open unless stated otherwise. Times are approximate (several rooms are opened/closed by Campus Facilities staff on their rounds).
Note:
The High Mill Building can only be accessed with a swipe card on Saturdays and after 1700 weekdays
The Library can only be accessed on Saturdays via the Main Building side door by the Library.
Building
Room
Semester time
Vacation periods
High Mill
003 (CAD)
0700–2130 (Mon–Thu);
0700–2100 (Fri); 1000–1530 (Sat)
0700–1900 (Mon–Fri)
004 (PC)
As above
As above
008 (Lectra)
As above
As above
009 (Mac Lab)
As above
As above
Library
Conference 1
0845–2145 (Mon–Thu);
0845–1645 (Fri); 1000–1545 (Sat)
0845–1645 (Mon–Fri)
Conference 2
As above
As above
Book a room
Conference/Study Rooms
Why not use one of the following Rooms if you need to work together for an extended time?
| Room | Equipment | Approximate capacity |
| --- | --- | --- |
| Assisted Technology | 5 PCs | 5 |
| Conference 1 | 12 PCs | 12+ |
| Conference 2 | 10 PCs, SMART Board connected to laptop | 10+ |
| Seminar 1 | 1 PC | 4 |
| Seminar 2 | 1 PC and projector | 7 |
| Seminar 3 | 2 PCs | 7 |
Rooms can be booked in advance at the Service Desk, or by phone (01896-89-2185) or email (SBCServiceDesk@hw.ac.uk). Tell us how many people the room is for, and if any equipment is needed, such as PCs or laptops, and we will try and find the most suitable room. At certain times of the year the rooms are very busy, so we can only hold a room for you for up to 15 minutes after the start of the booked time. We would also be grateful if you can tell us when you are finished with the room you have booked, or if don't need it.