Donald Brothers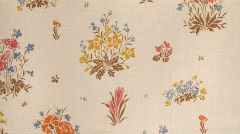 Donald Brothers was famous for producing high quality furnishing fabrics. The firm grew out of the Dundee jute industry producing canvases for sacks and sails. Inspired by the Arts and Crafts movement, in the 1890s they moved to making fabric for interiors and sold quite extensively to the United States. They initially produced textured canvases and figured linens but by the early 20th century created printed linens. Many designs were bought from leading design firm Silver Studios.
From the 1920s onwards they echoed the move to modern and stylised Art Deco designs. In 1927 they rebranded the printed fabric arm as Old Glamis fabrics using an emblem of Glamis Castle. Well known designers such as Marion Dorn, Eva Crofts, Riette Sturge-Moore and Ernst Aufseeser produced designs. From the 1930s to 1960s there were government initiatives to actively encourage artists to move into commercial design.
The strength of the company's creativity carried on into the 1960s. Again, many well known artists and designers such as Robert Stewart, Marian Mahler and Mary Oliver designed for the company as well as Creative Director Peter Simpson. However in the 1970s the firm started to lose money and was sold to another company, finally closing in 2006.
Unfortunately most of the business records have not survived, along with some of the early linen pattern books. However, the collection has a large range of pattern books from 1896 to 1973 and over 1,000 loose fabric samples, publicity material, counter books and photographs. Early examples of printed textiles are available through Wardles pattern books held at the Whitworth Art Gallery, Manchester. Courtesy of grants from the Esmee Fairbairn Trust and Museum and Galleries Scotland, over 300 large fabric samples have now been cleaned, photographed and rehoused.
Images are available through the on-line catalogue, Flickr and Facebook. Glasgow School of Art has examples of the woven fabric produced by Lockharts of Kircaldy and some samples are also at the V & A.
Key information
Museum and Archive Service