Tartan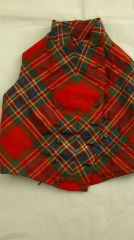 Tartan is associated with the Highlands of Scotland and the clan system. The origins are unclear but the distinctive checked pattern was established by the 17th century. Most original designs were lost when the wearing of highland dress was banned in the Highlands following the 1745 rebellion. However, tartan was still woven by firms such as Wilsons of Bannockburn who were outside the proscribed area. The tartans which survived were worn by the army, such as Black Watch.
Many mills in the Scottish Borders wove tartan and still do as they had contracts to supply fabric for the army. The collection includes tartan pieces as early as 1700 collected by individuals such as mill owner Lewis Anderson, as well as swatches in pattern books from mills such as Peter Anderson and George Roberts. Of particular interest are early samples of Wilsons's fabric from the 1830s from Edinburgh merchant J & A Ogilvy with the George Harrison collection. Highland dress includes plaids or shawls, barred blankets and a kilt from the early 19th century.
The collection also includes examples of fabric designed by students, such as the 1998 Commonwealth games uniform and Scottish Parliament tartan.
Key information
Museum and Archive Service