Bernat Klein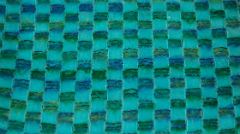 Bernat Klein was born in Senta, Serbia in 1922. After studying at the Bezalel School of Art in Jerusalem, he studied textile design at Leeds University. He worked for Munrospun before moving to Galashiels in the 1950s and subsequently set up his own business. Inspired by the Pointillist painter Seurat, he attempted to create an impressionist effect in fabric by dip dyeing wool to give dots of colour. He started painting for his own enjoyment in the 1960s, breaking down the colours in nature, and using these as the basis of the colours in his fabric. His breakthrough came in 1963 when a mohair tweed inspired by the colours of a rose was used by Chanel.
He subsequently created a range of tweed incorporating velvet ribbon, colour guides and a range of knitting patterns and matching wool and skirt lengths. In the 1970s he moved to produce ready to wear collections and created printed synthetic jersey based on his paintings. He retired in 1990 and in 2003 received an Honorary Degree from Heriot-Watt University. He continued to live at High Sunderland near Selkirk until his death in April 2014.
The collection includes pattern books, over 100 loose samples including fabric sold to designers such as Chanel and Balenciaga, garments, wool and knitting patterns, colour guides, newscuttings, publicity material, photographs and publications. The full collection is available through the on-line catalogue and also on our Flickr and Facebook sites.
Key information
Helen Taylor
Archivist
+44 131 451 3638
Museum and Archive Service