Tweed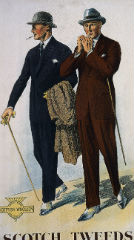 Tweed is essentially a type of twill weave. The inspiration behind the fabric were the black and white checked shawls or plaids worn by shepherds in the Scottish Borders hills. The ready supply of both sheep for wool and water meant there had been a woven woollen industry in the Borders since medieval times. Legend attributes the development of the industry to Sir Walter Scott who wore trousers made from the fabric in London in the 1820s. In the 1830s, a clerk at London merchant James Locke misread the name twill for tweed and the name stuck.
The industry rapidly grew after the 1850s with the introduction of new machinery, capital investment and railways making it the primary industry in the region. The original black and white checked design evolved into District Checks used as uniforms on Scottish country estates and herringbone and marled designs.
The Textile Collection includes rare and early examples of tweed from the 1830s and 1840s in the George Harrison and George Roberts collections. Other significant collections include R & A Sanderson, Galashiels 1854-1956, Peter Anderson, Gardiners of Selkirk and Blenkhorn Richardson and newscuttings featuring iconic tweed advertising images.
Key information
Museum and Archive Service