E. Y. Johnston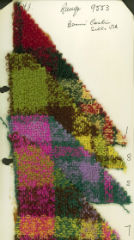 In 1939, Ebenezer Younger Johnston, cousin to the Artist, Ann Redpath, started up business in the Tweed Mill, Galashiels. By 1940, he occupied the whole of the weaving sheds at Tweed Mill, and in 1946, became a limited liability company. In 1948, he purchased the building and machinery of Tweed Mill. The company prospered, and E.Y. Johnston became known as one of the leading designers in the Tweed industry, specialising in ladies novelty cloth and sports jackets cloth for the North American markets.
By the mid 1960s E.Y. Johnston was already working with the Couture makers – including Chanel, Christian Dior, Mary Quant and Jean Muir. In 1969, E.Y. Johnston moved again, to Galashiels Mill, having acquired the companies which operated there. He produced small quantities which suited their kind of business. However, he also provided fabric for ready to wear British ranges such as Jaegar, Aquascutum and Windsmoor as well as Marks and Spencers. He sold extensively to the United States, including legendary American designer Bonnie Cashin. His fabric was used for a coat worn by Maggie Smith in the film "The Prime of Miss Jean Brodie".
The collection comprises swatches of fashion and upholstery fabric from the 1960s-1970s, garments and lose fabric, publicity material and education certificates and medals.
Key information
Museum and Archive Service