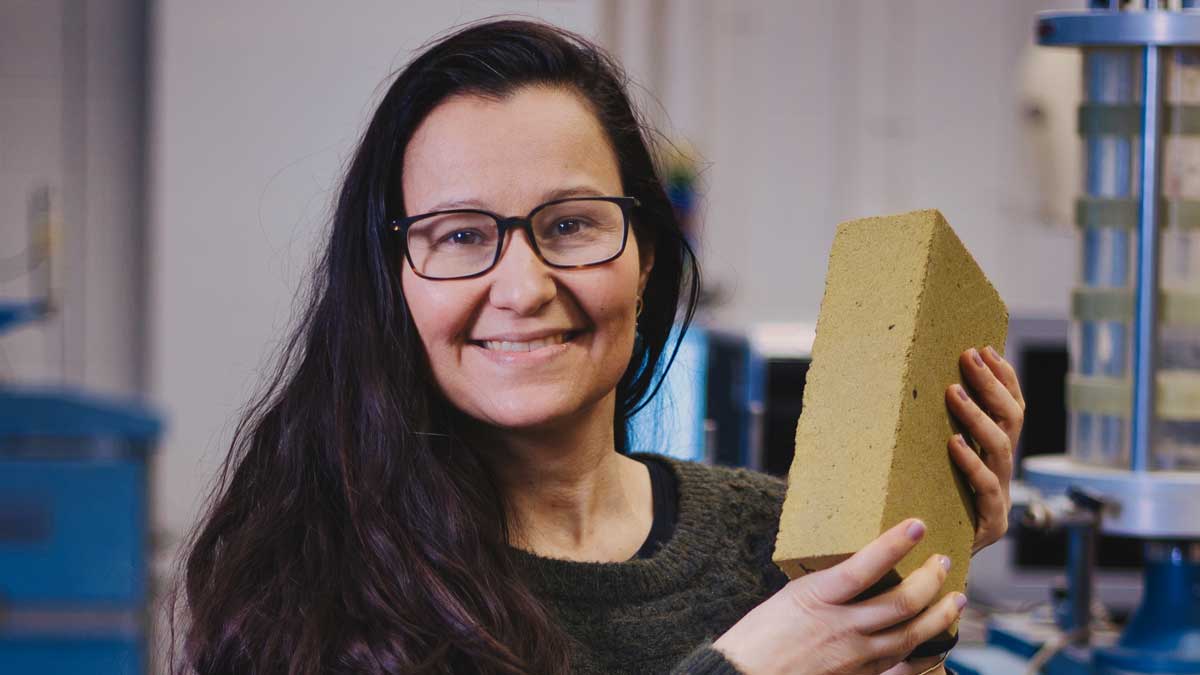 Gabriela Medero is Professor of Geotechnical and Geo-environmental Engineering and Associate Principal for Enterprise at Heriot-Watt University. She is co-founder of Kenoteq, makers of the K-Briq and here she writes about her award-winning and revolutionary, circular solution.

Tackling climate change should be at the top of the global agenda but, with the focus now on energy supply and spiralling costs, it's less clear how governments and industry can accelerate a just transition while dealing with this even more immediate crisis. Every sector must take significant steps to help reach net zero targets including the construction industry, which faces multiple challenges in the race to decarbonise.
The construction sector's CO2 emissions account for 39% of the world's total. The question is, how can the industry meet customer demand while decreasing its impact on the environment when homes and commercial buildings still need to be constructed – on time and on budget?
One solution is to reconsider the raw materials that are used, and innovate by introducing cleaner, more efficient circular economy processes.
It requires an incredible amount of energy to produce a single brick. Fossil fuels are burned to ensure kiln temperatures reach in excess of 1,000°C. This process generates both carbon monoxide and sulphur oxides, and the fine dust generated during production adds a further layer of pollution to our air.
The waste created by the industry is another cause for concern. The UK's construction industry produces over 100 million waste tonnes annually, over a third of the UK's total which needs to be repurposed.
Material availability is also failing to meet the needs of the UK. Currently, the UK construction sector is heavily reliant on imported materials from the EU and beyond. In 2019, over 600 million bricks were imported to our shores. Until HGVs become electric, this greatly increases the environmental impact of every brick used.
We must ask ourselves many challenging questions to fully understand where our materials are coming from, and what precious finite resources they are using up during their manufacture.
My team and I have spent over a decade trying to answer some of these questions. We've worked with engineers, architects, chemists and geologists to develop an eco-friendly alternative to traditional bricks.
Ensuring circularity in the manufacturing process is important to us. We started our research at the end of the lifecycle of construction, examining the landfill created by the industry and examined how these precious materials could be given another life and purpose. The result – the K-Briq – is made from more than 90% demolition and construction waste including concrete, rubble, old bricks and plasterboard. All ingredients are carefully put together without firing or cement addition. The manufacturing process requires less than a tenth of the energy used during the creation of a traditional fired clay brick and produces less than a tenth of the CO2 emissions.
It's crucial that the construction industry considers the future environmental impact of everything it creates. We must strive to become as energy efficient as possible and think strategically. By streamlining manufacturing processes, the industry will be able to produce more materials domestically, reducing the current reliance on imports. However, it's essential that we all work together, supporting manufacturers such as brick makers to find new, more sustainable processes while remaining competitive.
Choosing materials that naturally regulate building temperatures to minimise energy requirements is vital. That's why the K-Briq has a high 'thermal mass" which retains heat in the winter and keeps buildings cool in the warmer summer months, so heat and air conditioning costs are reduced.
Good intentions must be underpinned by support and guidance to achieve meaningful change. To allow the construction industry to adopt more innovative, low-carbon alternatives we need to see action from government, such as changes in policy coupled with incentives and consultation. These initiatives, combined with further research and development into new concepts and ideas, will help accelerate their introduction.
We are developing the blueprint for how these necessary changes can be achieved with brick manufacturing. At present, the site where clay is extracted informs where bricks are made. We think this needs to change by bringing production closer to where bricks are needed most, such as in the South-East of England. Through either licensing or franchise models with waste recycling centres across the country, we intend to produce K-Briqs where they are needed most. This reduces travel miles and cuts carbon emissions from the life cycle of the brick. Currently, we are scaling production from our existing pilot plant to industrial-scale manufacture onsite at a waste handling facility in Scotland.
We know the road to net zero will be very rocky. Governments around the world must place the circular economy at the heart of their net zero practices, to offer the construction sector an opportunity to take the lead, to innovate and to evolve to meet these challenges. We must make bold choices and work together in partnership to preserve our planet for generations to come.
by Professor Gabriela Medero