Save Our Penyu Digital Community Service Project : Giving Back in Championing Sustainability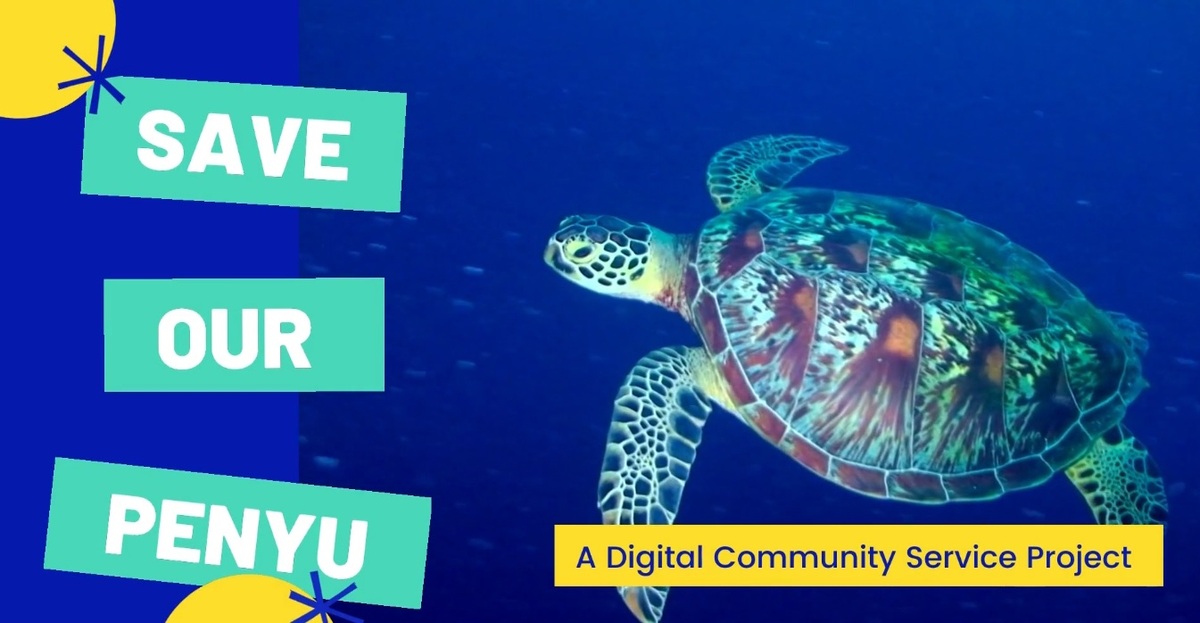 Fourteen students from various programmes at Heriot-Watt joined forces in their desire to give back to the community work towards environmental sustainability. As part of their EmPOWER programme project, the students of the Save Our Penyu (or 'Sea Turtles' in English) team worked on a crowd-funding project to save local sea turtles.
The Save Our Penyu team members' personal Impact Statements were collectively realised at the EmPOWER Watt Level through their group's Digital Community Service Project, "Save Our Penyu", which is aligned to The Duke of Edinburgh's International Award Voluntary Service section. Their project aimed at stemming the global plummeting decline of sea turtles, ancient mariners for the past 110 million years, by increasing public awareness that saw them sharing their skills and talents and giving their resources and time to assist the turtle hatchery to raise the public's awareness of turtle conservation.
The entire exercise also served to promote responsible consumption to the public through campaigns to minimise plastic waste and putting a stop to the consumption of turtle eggs while also fundraising to rescue turtle eggs from poachers and ensuring more turtle hatchlings are released to the ocean, in the hopes that they will survive and continue to flourish as the keystone ecological balance and ultimately, humanity's well-being in the long run.
Working in tandem with the Rimbun Dahan Turtle Hatchery in Cherating, Pahang, their fund raising, and enhanced sea turtle conservation social media and marketing conservation efforts contributed both directly and indirectly to the United Nations Sustainable Development Goals (UN SDGs) particularly SDG 14 — Life Below Water, SDG 15 — Life on Land and SDG 13 — Climate Action. Their project also subscribed to SDG12 — Responsible Consumption and Production, SDG 11 — Sustainable Cities and Communities in addition to the above outlined SDG 13, SDG 14 and SDG 15 in raising the public's awareness of sea turtle awareness and conservation efforts that could be adopted and practiced religiously in their daily lives.
Their project was also aligned to the Heriot-Watt University's 200th Anniversary theme of "Touching 200 lives" through their target of volunteering 200 hours collectively to raise the public's awareness of turtle conservation, to enhance sea turtle conservation efforts and to raise turtle conservation funds. They also sought to achieve a minimum target of 200 people sympathizing with the plight of the sea turtles through the awareness and conservation social media and fundraising campaigns.
The Save Our Penyu Digital Community Service Project successfully achieved and over-exceeded their initial objectives receiving enthusiastic, positive feedback from the hatchery, donors and the university as evidenced by the metrics of their success. Funds amounting to RM2,506 was raised to enable the hatchery to purchase approximately 1,002 sea turtle eggs for re-nesting and subsequent hatching and release of hatchlings into the ocean. The 220 donors gained and the 299 volunteer hours contributed enabled the plight of the sea turtles to be highlighted in the community whilst the social media, marketing and videography materials produced assisted the hatchery to continue to generate positive impacts on the community and significantly improved Rimbun Dahan Turtle Hatchery's ability to raise funds to purchase turtle eggs continuously into the future.
Despite the challenges imposed by the COVID-19 pandemic during the duration of the project from 14 March to 12 April 2021, the team has risen across the highs and lows of this digital community service project through their collaborative efforts, resilience, commitment, perseverance and strong teamwork. They are beyond grateful for the opportunity given by the Heriot-Watt University Malaysia for them to realise their impact statements in a digital community service project avenue during the COVID-19 pandemic and to experience a game-changer in the lens from which they view the lives and the environment that they are so dependent upon, which ultimately has broadened their positive mind sets, enabled them to acquire new skillsets, developed their EQ and build and polish their conscience to be effective and responsible leaders in promoting good and the spirit of giving back to the community. Their personal impact statements have been successfully translated into action whilst the voluntary service section of the Duke of Edinburgh Award's accomplished through the Save Our Penyu Digital Community Service Project in giving back to the communities in need, ensuring the sustainability of the biosphere and its' inhabitants and ultimately, in building a better world