About the campus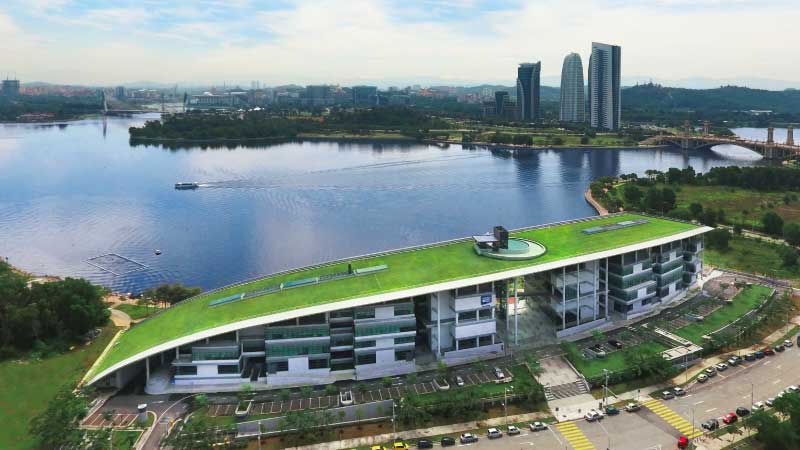 Malaysia's first green campus
Heriot-Watt University Malaysia's purpose-built campus opened to students in Putrajaya in September 2014 and the formal launch took place on 12 February 2015.
The £35m campus sits on 4.8 acres in a stunning lakeside location providing exceptional educational facilities in an excellent environment, close to the Putrajaya marina and its modern leisure and sports facilities. This is a fantastic green area, part of Putrajaya Lake's 'green continuum', and the building design is a conscious reference.
A green roof to match
The 'green campus' is remarkable for having the first living grass roof of its kind in Malaysia. At 300 metres long and 30 metres wide, it is the most recognisably sustainable feature of the campus. The roof shades the naturally ventilated spaces below, reduces thermal transmittance, and acts as an observation deck, accessible by glass lift. Other environmentally friendly, passive design features include campus lighting 'powered' by the maximum use of natural daylight, a rainwater harvesting system and optimised air-conditioning and thermal control systems.
A state-of-the-art learning environment
The campus is a state-of-the-art teaching and learning environment, reflecting our status as a leading provider of high-quality, professionally orientated education, knowledge transfer and research. Architect-designed in conjunction with educational design specialists, the campus has been developed with the current generation of students in mind, to create a dynamic, exciting place which maximises the potential of its setting for study and student life.
Virtual Tour
Why not take a virtual tour of our Malaysia campus to see what it's like to study, live and play here.
Key information
Heriot-Watt University Malaysia
Phone

+60 3 8894 3888

Email

Twitter
Key fact
Our Malaysia campus is a £35m, purpose-built development with space for up to 4,000 undergraduate and postgraduate students