Ong Tse Yuen
1st year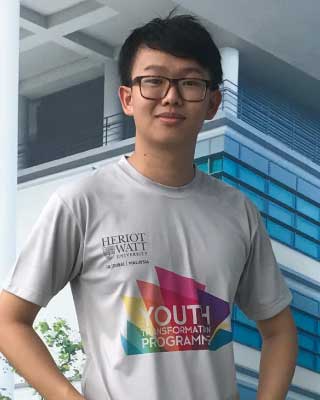 What appealed to you the most about Heriot-Watt University?
The design of the building was a main interest for me because of its roof garden which is rare for any building in the world. It provided an environmentally friendly backdrop to my studies.
How has the Youth Transformation Programme made you a better student and a person?
The programme truly transformed me. During the 2-week programme, I learned to be aware of my actions as people can judge my character through my actions. Instead of complaining about the things that I don't have, I learned to be grateful for everything that I do have. The programme also enabled me to create lifelong friendships while gaining trust in others and improving my social skills.
What degree are you hoping to progress to after your Foundation programme, and what are your hopes for your future?
I hope to study Mechanical Engineering next year because I love how tools and machines work. I hope to work in a space agency because I have loved astronomy since I was little.
What tips would you give to a student thinking of studying at Heriot-Watt?
I would tell them that Heriot-Watt University has a 'Go Global' programme which offers students the ability to study in different campuses at different countries while learning the same material across all of them. Furthermore, Heriot-Watt is well known worldwide, making it easier for one to secure a job after graduation.