Nur Yusrina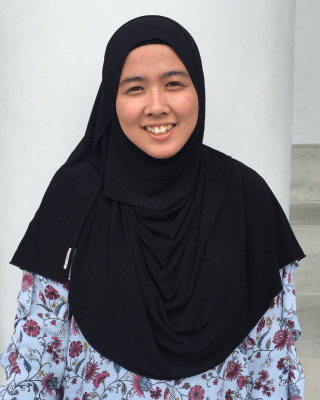 Nur Yusrina is from Brunei and is currently pursuing MSc (Hons) Petroleum Engineering. She wanted to be ready to build a career in oil and gas industry and hence, made the decision to venture into the course.
What appealed to you most about Heriot-Watt University?
The programme has a good reputation globally. I feel that the Petroleum Engineering programme helps me to be ready with the knowledge and skills to be in the oil and gas industry. The one year intensive programme is something that interest me as well.
What tips would you give to a student thinking of studying at Heriot-Watt?
Be ready for the challenges ahead and to work hard. Because in the end it will be worth it. And most importantly, enjoy every second of it (including the pressure and stress)!
What did you enjoy the most about studying your degree?
The course was interestingly challenging and it is a life-changing experience. I enjoyed meeting my colleagues from different backgrounds, the field trips, and team work (especially in Field Development Project)
Do you feel your degree has prepared you well for a career?
Yes, I feel like it really has. As I have very little experience in the industry, after this degree I feel like I'll be more prepared to be working in the industry.
Has your degree programme helped you develop links with industry?
Yes, through the industry speakers that have been invited to give lectures. As well as, during the FDP we were given the opportunity to work with real data and solve them with the help of the experienced industry people. Real life examples were also given in the course.
How do you think your degree will impact on your career prospects?
It has widen my career prospects because of the technical and personal skills that I have gained from this degree. I think the course notes and lectures are very informative and provide good references through out my career.