Master of Business Administration (MBA): Tung Hua Rhoda Ting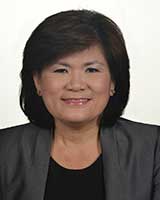 Rhoda Ting is General Manager for Pathology & Clinical Laboratory (M) Sdn Bhd. She gained her MBA in 2000.
"The Edinburgh Business School MBA degree has helped me in my career advancement from a regional manager to a regional general manager covering the whole of the East Malaysia region.
"The knowledge that I gained is essential in my career in terms of decision making, strategic planning, marketing strategies, financial control and business development for the company. The company has since expanded to neighbouring countries including Indonesia, Thailand, Hong Kong, Cambodia, Myanmar and Vietnam.
"Being a working mom, it is not easy to handle career, home-making and studying - but all the hard work has paid off! I hope that I can be an inspiration to other working adults who wish to further their studies and advance their career. I am proud to be associated with Heriot-Watt because of the prestigious image the University projects, as well as being ranked one of the best universities globally."