Master of Business Administration (MBA): Albert Teo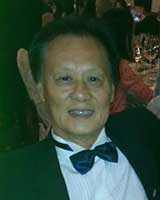 Albert Teo is a business consultant from Shah Alam in Selangor and President of the Malaysian Watt Club. He gained his MBA in 1998 so is well-placed to talk about his experiences as a Heriot-Watt graduate and alumnus in Malaysia.
"Heriot-Watt University is well-recognised and sought after by corporations, especially multinationals, in terms of employment of graduates. Being a business consultant, virtually every subject I studied I have since applied to my clients, particularly in Small and Medium Enterprises (SMEs) where many lack professional business acumen.
"Now with the opening of Heriot-Watt University Malaysia's new campus, we have one of the most modern and sophisticated universities in an excellent environment, with serene and conducive conditions to enable students to excel in their studies.
"A dedicated and capable Development and Alumni team is always there to give support to graduates, and our Watt Club Malaysia is one of the most dynamic alumni associations in the country, arranging various networking and social activities."