Paul Birly
1st year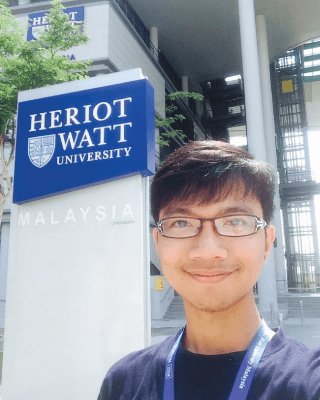 What made you decide to pursue a Foundation programme as opposed to the other pre-university courses available?
I decided to pursue a foundation programme as it puts me in a faster track than other pre-university programmes. I believe that a good university foundation programme would prepare my higher education mindset, by concentrating on specific subjects and prepare for a smooth transition to further my studies in my chosen degree programme.
What swayed you to choose Heriot-Watt to begin your university education?
I chose Heriot-Watt to begin my university education because Heriot-Watt is recognised for their quality of teaching. Moreover, Heriot-Watt offers optional campus transfer opportunities to Dubai and UK campuses easily.
How would you describe your experience at the university thus far?
I am having a valuable as well as fun experience learning at Heriot-Watt University Malaysia. The environment is comfortable, with lecturers who demonstrate a very high quality of teaching that has enhanced my potential in learning. By taking on a pre-university programme, I have learnt how to manage my schedule and balance life outside and within the classroom.
How do you think the Foundation programmes, be it in (Science or Business) is grooming you for your degree studies, and eventually your professional life?
The combination of the courses in the foundation programme such as Physics, Chemistry and Mathematics has helped me gain strong basic knowledge before entering degree studies. The foundation syllabus has also helped me to build soft skills needed to function in any environment.
What aspect(s) of Heriot-Watt's foundation programmes do you think sets it apart from other Foundation programmes?
Heriot-Watt strongly emphasise independent learning even at the foundation level. This has trained me not to rely on other people if you really want to succeed.
What are your plans upon successfully completing the Foundation programmes?
I am planning to pursue my degree in Mechanical Engineering after completing my foundation at Heriot-Watt in hopes of realising my dream to work in the aircraft industry.
Would you recommend HWUM's Foundation programme to your peers?
Yes, absolutely! For students in their initial step in tertiary education, to learn meaningfully is crucial and that is exactly what is constantly emphasized in the Heriot-Watt University Malaysia Foundation Program. The course provides the optimal level of challenge for students to grow - which is important towards their development while supported by friendly peers and faculty members.