Nur Sabrina binti Ghazali
1st year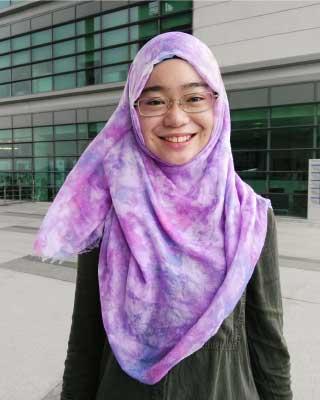 What appealed to you most about Heriot-Watt University?
What appealed to me the most about Heriot-Watt University is how they manage to be one of the best universities for several different courses ranging from Accounting and Finance to Chemical Engineering.
What tips would you give to a student thinking of studying at Heriot-Watt?
Students considering enrolment here should use this opportunity to get a fresh start. Be open to a different attitude here compared to in secondary school. Heriot-Watt lives up to its name as a global university, use this to become an international citizen who is capable of assimilating new cultures in their life.
What did you enjoy the most about studying your degree?
A major factor that made my studies here enjoyable was being required to analyse problems from every possible angle to solve them, which gave me the satisfaction of self-learning new things and understanding them. Lectures are held in a casual but professional setting where lecturers strike a balance in putting students at ease and still being serious when teaching.
Do you feel your degree has prepared you well for a career?
The foundation programme has given me a deeper understanding of the subjects that were taught, which enabled me to see a glimpse of what certain careers would be like, thus preparing me for my career of choice.
Has your degree programme helped you develop links with industry?
Despite not even being in an undergraduate programme, I have attended talks arranged by the university, where several people from different industries are invited to give talk to students. From these activities, I have managed to develop links with industry.
How do you think your degree will impact on your career prospects?
Education here in Heriot-Watt University isn't 'by the books'. We obtain additional skills while learning. Therefore, we aren't as restricted in our career pathways. Coming from a renowned university that provides quality education also contributes to a brighter career prospects.