Wong Yoke Yeng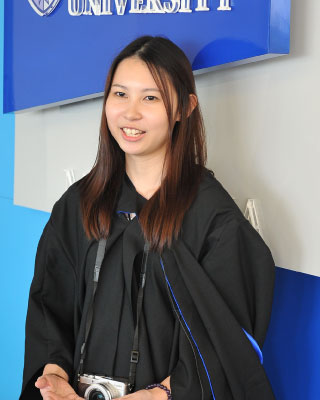 What are your thoughts and feelings to be part of the first batch of Malaysian graduates this year?
Excited! Being among the first batch of Heriot-Watt University Malaysia graduates means being second to none. This means the university had succeeded with its programme when they first established its presence in Malaysia. We started with less than 20 students pursuing a degree in quantity surveying, today it has grown to more than a hundred. This speaks volume of its success.
Looking back, what has been one of the single greatest memory you'd cherish while studying here?
It is rather tough to select one as having studied at Heriot-Watt for the past three years, each year has its own chapter which has lasting memories. From site visits, lectures, participating in a QS race held by RISM, working on an assignment with students from Edinburgh campus to group studies, it is an unforgettable journey. Friends, lecturers and staff members had made my stay at Heriot-Watt an enjoyable one too.
What are your future plans after you graduate?
Applying the knowledge acquired and gaining experience in the construction industry as a quantity surveyor. At the same time, pursue higher qualifications. Where opportunities are available, I definitely would want to be part of projects at international levels.
Any messages you want to include since you were in the pioneer batch of undergraduate students?
I hope with our first batch of undergraduates, it will motivate current and future students to attain similar excellent achievements and that Heriot-Watt University Malaysia will continue to provide the best educational platform for many years to come.