Electrical and Electronic Engineering BEng (Hons): Rob Richards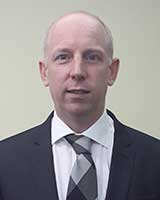 Rob Richards graduated from Heriot-Watt in 1998 with a BEng (Hons) in Electrical and Electronic Engineering.
"I am originally from the rural market town of Louth, Lincolnshire in the UK. I graduated from Heriot-Watt after completing my BEng in Electrical and Electronic Engineering, specialising in High Voltage and Power.
"With its balance of theoretical and practical study, Heriot-Watt gave me an education recognised and desired by industry, and this has allowed me to work all over the world in both the power generation and oil and gas arenas.
"I am now the Chief Operating Officer of KNM Process Systems in Malaysia, part of the KNM Group, a manufacturer of process equipment and total solutions provider for the oil, gas, petrochemicals, minerals, power, environmental and renewable energy sectors. KNM Group has a revenue of around RM2.0 Billion per annum with approximately 5,500 employees worldwide."