Nadzirah Hazwani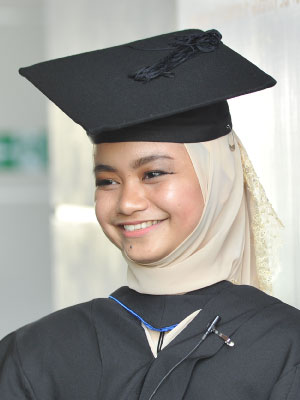 What are your thoughts and feelings to be part of the first batch of Malaysian graduates this year?
To be part of the first batch of Heriot-Watt University Malaysia graduates this year is definitely special to me. Being part of the "firsts" of everything in the university, like the first to experience the learning environment, facilities and services, it has made it all the more thrilling but at the same time challenging for us. I am ultimately blessed and grateful to eventually survive and graduate!
Looking back, what has been one of the single greatest memory you'd cherish while studying here?
The memory I would cherish the most is definitely the memory of me building close relationships with my fellow friends. They are the reason for me to grow in many ways. I would never forget the shiny and rainy days we went through together to achieve our dreams.
What are your future plans after you graduate?
I am now working for a contractor company. Throughout my employment, I would like to learn as much as possible the QS role and looking forward to be a Chartered Surveyor before 30.
Any messages you want to include you were in the pioneer batch of undergraduate students?
Happy 5th Anniversary HWUM!! It has been a great honour for me to be part of the first cohort to graduate. It has not easy for me to leave this wonderful place and the memories I had here, but life goes on and now I look forward to contribute as much and as best as I could for our country as a proud HWUM Quantity Surveyor graduate!