Tsung Kheng Yew
Role

Assistant Professor

Section

Malaysia

Department

Foundation

Email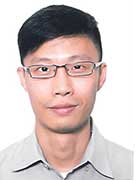 About
Tsung Kheng Yew is Assistant Professor, Foundation Programme.
Biography

Kheng Yew has accumulated more than ten years of experience teaching international pre-university programmes like the South Australian Matriculation (SAM) programme from Australia and the CIE A-levels programme from the United Kingdom.

He has a growing portfolio in leadership as well as training and development. He was previously a representative of the Academic Staff Steering Committee (ASSC) and a subject coordinator for Physics in Taylor's College. He has also mentored new teachers and also conducted training for lecturers in areas like Turn-it-in, Blended Learning, Assessment and Feedback, etc.

He thinks strategically and encourages positive change. He is delighted to bring his experience and expertise to the Foundation in Science programme at HWUM.

Kheng Yew obtained his BSc. in physics from the University of New South Wales, Australia. His future plans are to undertake his postgraduate MSc degree and pursue a PhD. He hopes to be an academic; actively contributing to science by doing research and doing consultancy work. His area of interest is in nuclear applications.

During his free time, he loves to relax and enjoys the company of good friends. His students have taught him YOLO (you only live once)!