(Dr) Serina Hijjas (Honorary Graduate School of Energy, Geoscience, Infrastructure and Society, DUniv)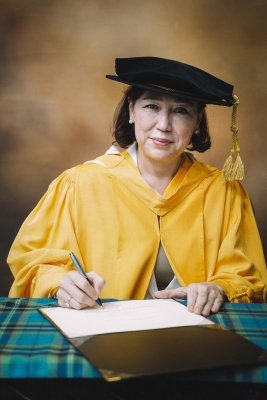 (Dr) Serina Hijjas is one of the few Malaysian women leading an architectural firm as well as in sustainable design. She is one of the pioneers in energy efficiency and sustainable design in the country and is a founding member of the Green Building Index.

The daughter of illustrious architect Hijjas Kasturi, she obtained her degree from London's Bartlett School of Architecture. She was first introduced to energy-efficient, sustainable design while working at Foster + Partners in London and led its adoption in her father's practice when she returned home, continuing her father's legacy of bringing innovation to architecture.

This resulted in the first high-rise, energy-efficient buildings in Malaysia, the Telekom Tower, which was recognised as one of Southeast Asia's leading energy-efficient buildings in 2005 and was nominated for the Aga Khan Award. Serina also won the Asean Energy Efficiency Award for the Securities Commission headquarters in Kuala Lumpur. Some of her other notable projects include the Celcom Tower in Petaling Jaya, Kuala Lumpur's Shell headquarters and Putrajaya's Heriot-Watt University Malaysia, which features the first "living" green roof in the country.

In 2020, her firm Hijjas Architects & Planners designed the Malaysia Pavilion for Expo 2020 Dubai. The low-carbon floating pavilion, inspired by traditional Malay houses and rainforest treetops, was recognised as one of the leading sustainable pavilions.

In February 2022, (Dr) Serina Hijjas was conferred an honorary degree by Heriot-Watt University Malaysia for her contribution to architecture and her support of empowering lives through education.