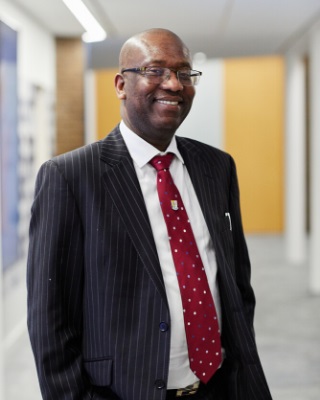 Kingsley Aimufua
Senior Project Planner, Optilan UK
Kingsley currently lives and works in Coventry as a senior project planner with Optilan UK. He graduated with an MSc Construction Project Management in December 2019.
Can you tell us about your current job?
I currently work as a senior project planner with Optilan UK. I am in the head office in Coventry. We work on diverse projects, mostly in mechanical and electrical. We engage in oil and gas, utility, transport, maintenance, telecoms and security projects. As a senior project planner, I am responsible for developing, updating, maintaining and communicating the programmes to other stakeholders to reflect the contractual agreement in terms of cost, scope, time and quality within the available constrained resources.
What was your experience of studying online?
Studying online not only gave me the ability to study at my own pace but also removed the stress of having to be in a class at a scheduled time. I could wake up in the middle of the night and have access to the right learning materials. The support from the tutors and lecturers is commendable.
What have you enjoyed about your MSc degree programme at Heriot-Watt?
All the modules I took were very interesting and necessary to advance my skills, experience and knowledge in the areas of construction project management. I wouldn't trade any module for any other as they were all resourceful, engaging and intellectually enriching. The networking was superb as my network grew beyond just Europe and extended to other continents. I now have course colleagues as friends located in other countries, Greece, Ireland, Austria, North American, South American and African countries. Innovation, Communication and Technology (ICT) stood out in all the modules as it reflects the future.
What's the most unexpected or surprising thing you experienced studying your MSc?
The only surprise is having written examinations. To be honest, this really made me read deep and wide which was further beneficial in reinforcing my knowledge in the subject matter.
What impact has the MSc degree programme had on you and your career?
Studying MSc in Construction Project Management has not only made me a guru in the subject but also elevated my career status. I can now apply my knowledge, skills and experience in areas of project management and planning to any industry. I can engage stakeholders constructively, challenge procedures ethically and deliver projects successfully.
What advice would you give to an online postgraduate student considering embarking on their studies at Heriot-Watt?
I would recommend independent distance learning (IDL) to those who work and are time constrained. This will afford them the freedom to study anywhere and anytime. Heriot-Watt is definitely a good place to study via IDL. They understand what it takes to make it happen.
Qualifications
MSc Construction Project Management, Heriot-Watt University, 2019