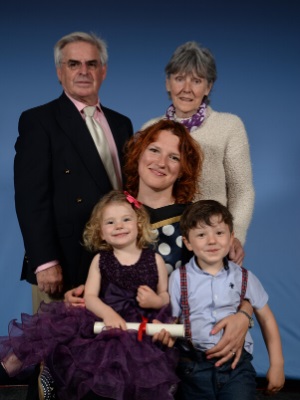 Anastasia Bird
Anastasia Bird graduated from the MSc Petroleum Engineering programme in 2019. Originally from Russia, Anastasia runs her own oil and gas consultancy in Scotland.
Can you tell us about your current job?
The quest for oil brought me to work and live in Scotland. I've been working in the oil and gas industry for nine years, specialising in completion and production enhancement. I currently work as an engineering consultant at OPECS (Oilfield Production Enhancement Consulting Services Ltd.) as a reservoir stimulation and completions engineer. I provide consultancy services to major oil and gas operators in the analysis of potential well damage mechanisms, identifying well candidates for stimulation, and providing design and evaluation of stimulation treatments.
What was your experience of studying online?
Studying for the online degree was intense. It felt quite different to the on-campus degree I previously studied and, as expected, it involved a lot of individual course work. However, the virtual learning environment is well established and the quality of materials for each module is very good. The webinars were very helpful and highlighted parts of course that were particularly important to understand. The webinars also provided an excellent platform to interact with professors.
What have you enjoyed about your MSc degree programme at Heriot-Watt?
All the courses were very engaging. I particularly enjoyed Petroleum Geoscience as it provided a good base for all the subsequent courses and learning. It also taught me to look for answers in the geology prior to designing any oilfield project. Reservoir Engineering was also a highlight as it showed me valuable tools to use in my everyday role.
One of the special memories is the geology trip with the Department of Petroleum Geoscience and looking at the outcrop analogues for many oil and gas fields. Apart from being a truly enjoyable adventure it also gave me a deep understanding of different reservoirs.
What impact has the MSc degree programme had on you and your career?
The degree has developed me hugely as a professional. It has given me extensive knowledge and tools and deepened my understanding of the industry overall. I am confident that the MSc in Petroleum Engineering with Heriot-Watt University will have a positive impact on my career and will open new doors.
What advice would you give to an online postgraduate student considering embarking on their studies at Heriot-Watt?
Keep focused, work hard and most of all enjoy the process of this incredible journey! If you have a thirst for professional development then a Heriot-Watt degree provides an excellent opportunity to progress.
Qualifications
MSc Petroleum Engineering, Heriot-Watt University, 2019