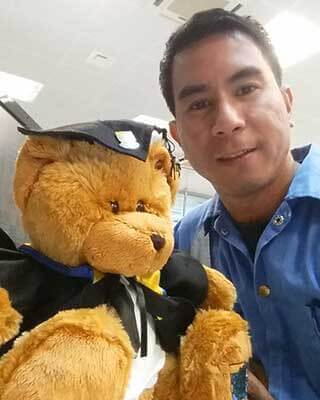 Teddy Tabanao
Teddy, from Manila in the Philippines, studies the MSc Safety, Risk and Reliability Engineering on the distance learning program.
Why did you decide to come to Heriot-Watt over other places offering similar courses?
Heriot-Watt is a bang for the buck. As an oil and gas professional working rotational shifts, it is one of only a few universities which offer my programme in distance learning mode fitting around my work demands, schedule and geography. It also balanced my finances and desire to receive top-notch education from a UK university known for its international reputation, professional recognition, industry links and world rankings.
Do you feel your degree has prepared you well for a career?
My formal education at Heriot-Watt brought a step-up improvement in my skills, knowledge and critical thinking in safety, risk and reliability engineering. It further developed and enhanced my expertise, which became my source of power in the work place. It made me more analytical, strategic and critical in my approaches and helped me exceed performance expectations.
Has your degree programme helped you develop links with industry?
The MSc SRRE programme is mostly composed of an international cohort. I've developed a network across countries as far as Nigeria, the UK and Australia.
What was the teaching support like?
Students in the IDL programme receive comprehensive course material with all 'what you need to know' information. It uses a collaborative online platform, the Blackboard Virtual Learning Environment, which offers a forum to discuss and ask questions on module topics under the guidance and facilitation of the course team leader. Your learning is assessed appropriately by written exam or assignment or a combination of both to gauge your understanding and critical thinking.
What advice would you give to a postgraduate student considering embarking on their studies at Heriot-Watt?
I highly recommend pursuing your studies at Heriot-Watt. The University is a brand by itself – and gives value for money. It is one of the UK's leading universities, known worldwide for its innovation and research, international reputation, professional recognition, industry links and world rankings with its recent QS World University Rankings 2015/16 placing the University in the top 4% of universities globally.