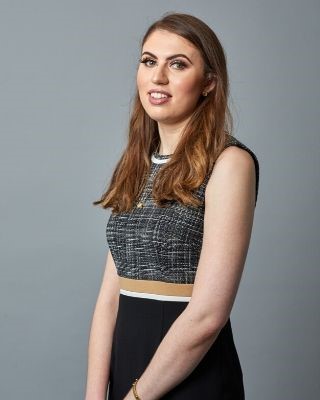 Jacqueline Kahn
Jacqueline has worked in property management for over three years. She graduated with an MSc Safety and Risk Management in December 2019
Why did you decide to study an MSc in Safety and Risk Management?
I have worked for a number of years in property management, with various placements in health and safety. I wanted to improve my knowledge of the subject area and enhance my chances of career progression.
What was your experience of studying online?
It can be hard to juggle working full-time, studying and family commitments but after the first few modules it became second nature and slotted in to my everyday life. When I finished my last module, I felt a little bit lost. Sitting down and studying had become part of my routine and I already missed it!
With each module, I gained a whole new community of fellow students that helped me stay motivated and engaged via the interactive chat rooms. The chat rooms were a great place to share ideas and thoughts about the coursework and exams. The lecturers also got involved in the chat rooms coming back to questions students had and engaging in various topical discussions.
The lecturers were fantastic and used different types of media to teach the courses. Video recordings, slide shows with voice over recordings and course booklets were used, to mention a few. The lecturers often created lecture videos prior to exams and assignments to help motivate us and provide lots of helpful hints and tips.
What have you enjoyed about your MSc degree programme at Heriot-Watt?
The dissertation project was my favourite part of the degree programme. Writing my dissertation allowed me to carry out research and analysis on a topic I was really interested in, and my tutor provided me with the support I needed to complete the project.
What's the most unexpected or surprising thing you experienced studying your MSc?
I didn't find that there was anything unexpected or surprising about the course but I did find myself surprised at how studying became so second nature. Sitting down to study became something I really looked forward to and was an escape amongst a busy working and family life.
What impact has the MSc degree programme had on you and your career?
My MSc degree programme has massively impacted my career. It has provided me with a whole new level of confidence and self-belief that I didn't have before starting. My manager was so happy for me when I graduated. She recognised and admired the time management and organisational skills I had developed in order to balance all my commitments.
What advice would you give to an online postgraduate student considering embarking on their studies at Heriot-Watt?
You can achieve anything you put your mind to. If you ever feel like giving up or just need a motivational boost, remind yourself why you started and reach out to your fellow students and lecturers – they often provided me with the reassurance I needed. Everyone is facing a lot of the same challenges. I would highly recommend pursuing your IDL (Independent Distance Learning) studies at Heriot-Watt.
Qualifications
MSc Safety and Risk Management, Heriot-Watt University, 2019