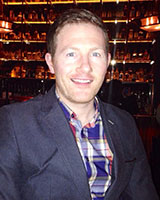 Eric Ryan
Distillery Operator, Irish Distillers
Eric graduated from the MSc in Brewing & Distilling in 2013. He now works for Irish Distillers as a Distillery Operator.
Can you tell us about where you work and describe your role?
I work in Midleton distillery in East Cork, Ireland. Midleton is quite a unique distillery in that it houses both a pot still and a grain distillery. We produce a range of whiskey blends (e.g. Jameson, Midleton Very Rare, Powers, and Paddy) and a variety of traditional Irish Pot Still whiskies (e.g. Redbreast, Yellow Spot, Green Spot, Powers John's Lane).
I work a four shift cycle as part of a team of distillery operatives. I am currently working in the Brewhouse where I am responsible for both a batch brewing plant (producing wash for the pot stills) as well as a continuous brewing plant (producing beer for the column stills). I have worked in the Stillhouse, where I operated the column stills and copper pot stills, and I have also spent time working in the Feeds recovery plant.
What was your experience of doing a degree at Heriot-Watt University via distance learning?
I had very little interest in whiskey before I started my studies. However, I had fallen in love with the spirit by the time I had finished my studies. I work in an industry that I love and I produce products that I love. Indeed, I am a committee member of the Irish Whiskey Society so it's becoming my hobby as well. With all this in mind, I thank Heriot-Watt for giving me so much more than a degree.
How has you degree helped you in your profession?
Yes, it was probably the main reason why I managed to get a sought after job in Midleton distillery. This degree has given me the ability to critically assess our process and to suggest improvements. Lastly, it has helped to open doors for me outside my core work area.
Why did you choose Heriot-Watt and the programme that you studied?
I wanted to gain skills in brewing and distilling so I could get a job either in the brewery in Cork city or the distillery in Midleton. I decide on this programme when I learned that Heriot-Watt graduates are considered in high regard by breweries and distilleries.
What did you enjoy about the MSc in Brewing & Distilling?
I loved learning about the biological activity that underpins the production of alcoholic drinks. I especially enjoyed the distilling and whiskey maturation courses. The process of producing my own dissertation was also a highlight and helped me to understand the particular aspects of production that result in whiskey flavour generation.
I also particularly enjoyed meeting fellow students as well as the University team at the Summer School in Edinburgh – I wish I could do that every summer!
How did you find fitting studying by distance learning into your life?
At times my studies took over my life and I am forever thankful for the support that I received from my wife. Although it was a hard slog at times, I must say that I enjoyed the overall experience immensely.
What advice would you give to someone considering studying a distance learning programme at Heriot-Watt University?
Go for it as it will probably be the best decision of your life. If, with two children, I could do it, then you, with the right commitment, can do it too.
Do you have any advice for students interested in working in your field?
Go get a brewing & distilling qualification, get involved in beer or whiskey societies, and build relationships at every opportunity. You will find that the people in this industry are a special breed and will recognise and reward your efforts.