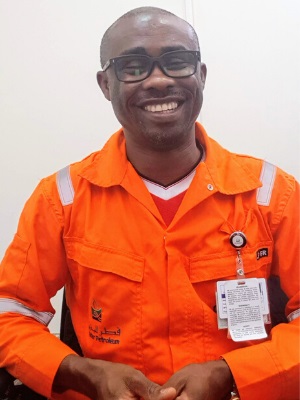 Chibuike Nwagbara
HSE Supervisor Facility Management, Qatar Petroleum
Chibuike graduated with an MSc in Safety, Risk and Reliability Engineering in 2019.
Can you tell us about your current job?
I currently work as a HSE Supervisor Facility Management for Qatar Petroleum. My role involves leading the development and implementation of safe practices for all Qatar Petroleum Facilities including fire engineering, incident management, emergency response etc. I am responsible for the development and implementation of the HSE management system in line with international best practice and for the safe execution of projects.
What was your experience of studying online?
The experience was great. Every course is thorough with detailed course materials. The level of support is also good. All the lecturers are willing to help and the support in the student forum was amazing. The studies were very flexible and of the best quality.
What have you enjoyed about your MSc degree programme at Heriot-Watt?
The degree undoubtedly improved my skills and competency. The early stages of the studies had a positive impact on my former role in Projects and Engineering. Overall, it improved my confidence.
In addition to the knowledge and confidence gained, I increased my network. I met many people on the same course in Qatar and also in countries across the globe.
What's the most unexpected / surprising thing you experienced studying your MSc?
I don't think there were any big surprises. I got exactly the quality I needed to apply to my job and bridge the gaps from my first degree.
What impact has the MSc degree programme had on you and your career?
My MSc has given me the ability to focus on my personal studies, built my confidence at work and increased my desire for further studies beyond the Msc.
What advice would you give to an online postgraduate student considering embarking on their studies at Heriot-Watt?
Choose Heriot-Watt University. The quality and flexibility is great.