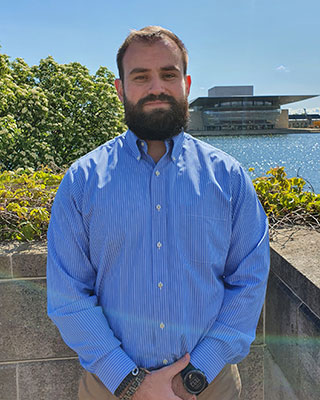 Alex Peridakis-Friis
Alex is currently in the final stages of studying his MSc in Safety and Risk Management, having just submitted his dissertation on the causes of recent 737 Max aircraft crashes. Here he offer some insight into studying an MSc degree online.
How would you sum up your MSc experience?
I've had a lot of personal growth throughout the course and I attribute that to the style and technique of teaching. I started my course at a time in my life when I was trying to figure out my next step. Once I was accepted and started the course, I was determined to do well and to learn as much as I could. I started to look at things more in depth and not to take everything at face value.
How have you changed since starting your MSc degree?
I have definitely changed a lot. I have a lot more focus than I did before, and I am better able to dissect topics and issues. It has reinforced my self-motivation as I have been solely responsible for my studies. I became my own biggest competitor! When I did my first degree at Heriot Watt, I had just turned 18 and was immature and, to be brutally honest, never took full advantage of the opportunities I had. It was not going to happen a second time.
What challenges have you faced?
I moved countries quite often during my two and a half years of study. I moved from Denmark to Germany, back to Denmark then to Singapore and then back to Denmark. Although that added pressure, I somehow found comfort that no matter where I was in the world, I had a constant - that was this course. Studying online provided the flexibility I needed in order to study and complete my postgraduate.
What support did you receive?
I would like to thank my friends and parents for always supporting me and believing in me when times got rough. Without them it would have been difficult to keep sane. To my fellow students whom I've never met but had engaging conversations with on the discussion boards and the various WhatsApp chat groups. I learned just as much from them as I did from our material. And finally, I would like to thank my professor. I greatly appreciated his teaching style which helped ignite a deeper interest in the course and also motivated me when I found it difficult to return to University.
What influence do you think your dissertation topic will have on your career?
I believe that my degree has fine-tuned the skills I've gained over the 2.5 years of studies and has taught me to be more analytical in every respect as well as more thorough. Independent Distance Learning has helped me become more self-sufficient and confident in my academic abilities. I was the one steering the boat and these are useful traits to have in any career.
Are there any tips you would like to give future students about undertaking their dissertation?
My tips for future online students would be don't leave the research for your dissertation to the last minute, start your research early - even if you don't know the exact title, start your background reading around the subject. And then take your dissertation step-by-step.
Another tip would be to involve yourself in the discussion forums and WhatsApp groups. As mentioned before, I learned just as much from my fellow students as I did from the course materials.