MA Digital Design and Innovation
The course
Delivery

Full-time, Part-time, Per course

Course type

Taught

Location

Scottish Borders

Entry date

January, September
For graduates with a creative background wishing to transition into one of the many digital design industries.
Chat with the Programme Leader
Interested in this programme of study and want to talk to an expert? Enter your details and we will be in touch to arrange a virtual chat with the programme leader.
Overview
The programme examines the disruption caused by the world's fourth industrial revolution. With emerging technological breakthroughs in the fields of artificial intelligence, robotics, the Internet of Things, autonomous vehicles and drones, smart materials and many more, the role of design and innovation in digital media and technology is critical in generating solutions and advancing society.
In addition, students will learn hard skills that are in high demand across the digital sector. These skills include coding, digital imagery design, moving image and motion graphic design, digital brand strategy, user interface design and UX design.
The masters includes live industry projects with design-led companies, and the option of international travel to trade and industry shows.
September 2022 entry
The deadline for applications from Scottish and RUK students is 31 August 2022. For EU and overseas applicants, we guarantee to consider applications submitted by 8 August 2022.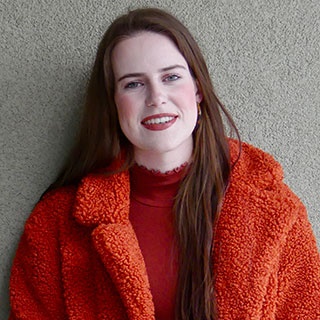 My classes have really enabled me to explore various avenues of design such as digital placemaking, the design and creation of apps or websites as well as exploring various technologies such as augmented and virtual reality, drones, and GIS.
Course content
Semester 1
Creative Programming
Digital Design - Innovation Lab
Design Thinking and Innovation
Semester 2
Design Technologies
Digital Enterprise Lab
User Experience Design
Semester 3
Entry requirements
This masters attracts professionals from a range of creative and design disciplines with experience of using digital applications.
You should hold a good (first or second class) honours degree or its non-UK equivalent in a relevant subject from a recognised British or overseas university. In addition, work or project experience in a related company role will be taken into consideration as part of the application process.
Applications are made by completing an online application form. Please upload the following documents as part of your application:
A copy of your degree(s) certificates and relevant transcripts
A CV
If required, proof of English language
English language requirements
If you are from a country that is not on the UKVI majority English-speaking country list, you are required to provide proof of English. Please refer to our English language requirements for details of evidence that we accept. The minimum requirement for English language is IELTS 6.5 or equivalent.
Pre-sessional English courses are available for applicants at the Edinburgh Campus to improve on English language usage and study skills. Please note that completion of pre-sessional courses are not a guarantee of admittance.
Fees
Footnotes
Your residency 'status' is usually defined as the country where you have been ordinarily resident for the three years before the start of your course. Find out more about tuition fees.
Fee per course (module). Refer to the Course Content to see how many courses comprise the full programme.
Overseas includes applications from European Union countries who do not hold Pre-Settled or Settled status in the UK. Read more about the application process for EU nationals.
Scholarships and bursaries
We aim to encourage well-qualified, ambitious students to study with us and we offer a wide variety of scholarships and bursaries to achieve this. Over £6 million worth of opportunities are available in fee and stipend scholarships, and more than 400 students benefit from this support.
View our full range of postgraduate scholarships.