SPE Petrobowl 2018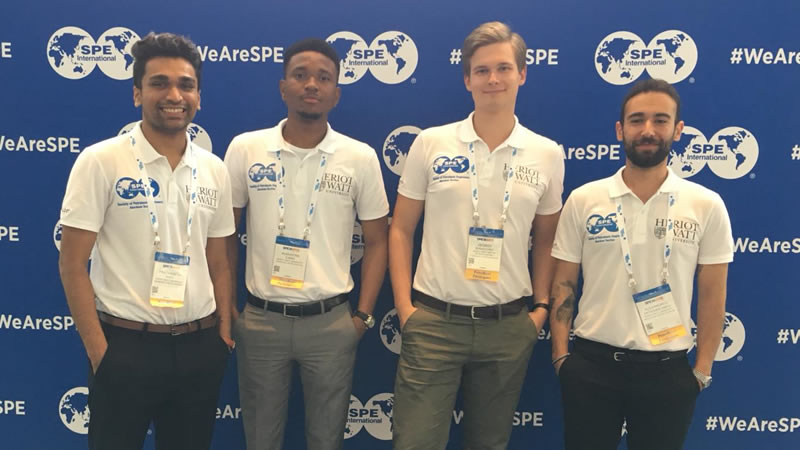 The 2018 Petrobowl finals was held at ATCE in Dallas, Texas, USA, on 24th September, 2018. Top 32 teams from Universities around the globe competed at the Petrobowl finals, and HWU, again, performed remarkably, making it to the Elite 8 round. After a very competitive and tight show off against the Federal University of Rio de Janeiro, HWU proved to be the best of the 4 teams that did not proceed to the semi-final round.
The performance of the HWU Petrobowl team proved to have significantly improved again, compared to the previous years, and this team gave HWU the best Petrobowl performance since their debut in 2015. The performance of this year's team has, indeed, built a strong reputation for a distinguished position of the HWU SPE Chapter in this competition for upcoming years.
Our team
By hosting a variety of events, the SPE Heriot-Watt University (HWU) chapter put together a highly qualified team, consisting of committed Institute of Petroleum Engineering (IPE) students with diversified backgrounds related to Petroleum Engineering.
The team comprised of Augustine Ojero, Prathamesh Aher, Georgy Borisochev, Anatoly Savelyev and Alexandros Patsoukis Dimou, all Petroleum Engineering M.Sc. students.
Success in the European regional qualifier
The 2018 European regional qualifier was held at the East meets West Congress in Krakow, Poland, on 8th – 10th April, 2018. The HWU team completely outclassed teams from other renowned universities at the European contest, and defeated Clausthal University of Technology with an unprecedented score margin in the semi-final round, and after a very close match against the University of Stavanger in the final, HWU emerged 2nd position. HWU qualified as the only University from the UK for the finals at ATCE.
SPE Petrobowl
The Petrobowl competition is organized by the Society of Petroleum Engineers (SPE) annually, and it takes place at the SPE Annual Technical Conference and Exhibition (ATCE). The contest has grown in size and popularity since its debut in 2002, and in 2015 was taken global with the introduction of six regional qualifier contests.
The Petrobowl competition pitches SPE student chapter teams against each other in a series of intensive rounds, answering technical and nontechnical Oil and Gas industry-related questions.
The contest features the best universities around the globe. Regional qualifier competitions are held in Africa, Asia Pacific, Europe, South America and Caribbean, Middle East and North America SPE regions. The top five teams from each region, along with the finalists from the previous year compete at the ATCE.
Sponsors
The 2018 HWU Petrobowl team was sponsored by HWU's IPE, Adrian Todd Golden key Student Support Fund, SPE Aberdeen Section, Scottish Oil Club, AGR TRACS and Uwem Upkong.
A crowd funding platform was also set up and the team received some support from some members of the Watt club, friends and well-wishers. The HWU Petrobowl team and the SPE Chapter greatly appreciates the kind support of the sponsors.
Good luck to the 2019 HWU Petrobowl team!