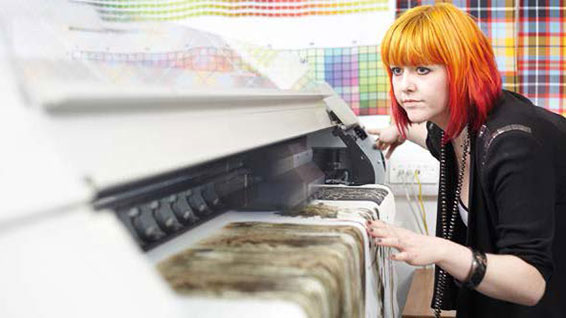 Crossing point
Now we are at the centre of campus, let's talk about one of our other UK campuses. The School of Textiles and Design (SOTD) is based at our campus in the Borders, Galashiels. Researchers there are doing lots of interesting work, as they are looking at the way in which Design can help create a better society. They cover a broad range of subjects which include how different patterns, textures and clothing can impact people's emotions. Researchers also study the theory of design and how this reflects changes in society.
Within the School's research culture, there is a strong focus on heritage (knowing our past) and anthropology (knowing who we are) to create a better world. As we move towards an eco-friendlier design culture, many are also exploring ways in which we can produce sustainable design and reduce the waste of the fashion and textile industry.
Several of our researchers work across a variety of fields to bring their research to the public – some have been museum curators and other have a background in interior design, textile and anthropology. Alongside this, some explore the medical applications of the materials they work with and how special pieces of clothing can help with scars from serious skin burns! They also explore ways in which we can make better and more protective body armour.
Heriot-Watt researchers have been world leaders of many major developments including chromic materials, printing on cashmere knitwear, 3D simulation of flexible materials, inks for digital printers, fibre optic weaving, nano-technology and medical textiles. The School of Textiles and Design is bursting with colours, fabrics, threads, sewing machines – featuring all sorts of clothing and material experiments to design exciting new objects and spaces.
Research Bite
Find out more in this Research Bite with Dr Lisa Macintyre who explains how she developed a Pressure Garment Design Tool now used by companies all over the world. Her main area of research has always been evaluation and optimisation of the functionality of compression garments for medical applications.
How can textiles be used in medical technology?
Knitted Tomo-what?! Knit your landscape, with whatever you can find!