Thornton Tomasetti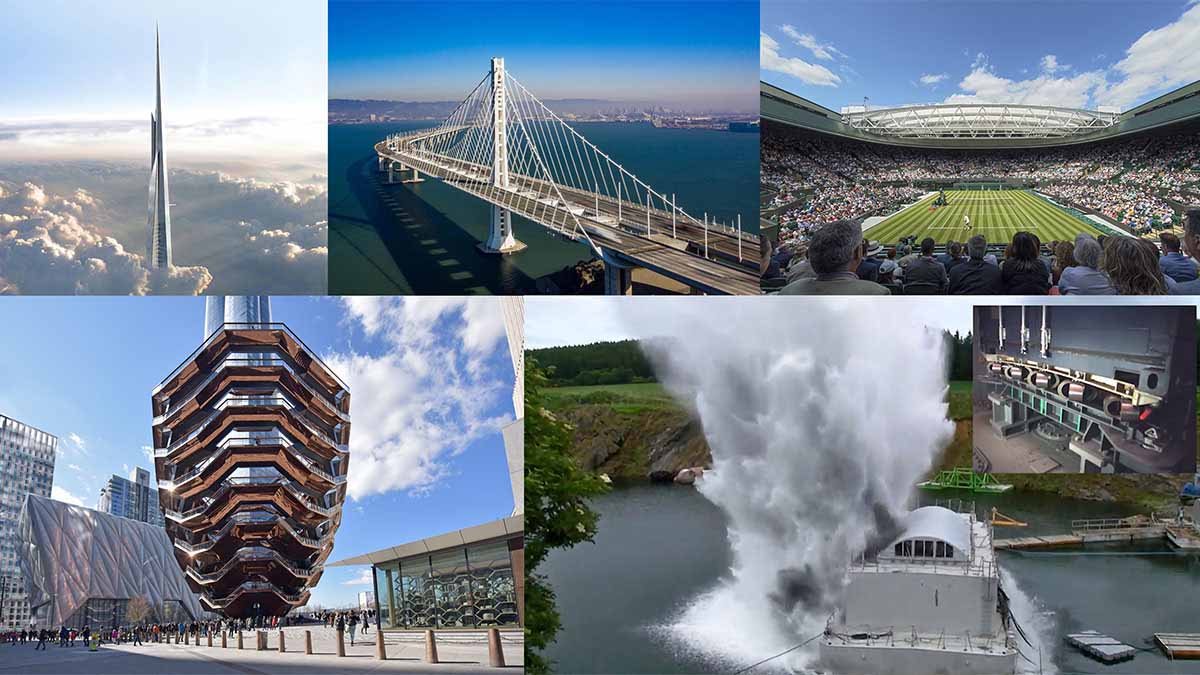 Thornton Tomasetti is the structural engineer behind such projects as Jeddah Tower in Saudi Arabia, the new east span of the San Francisco-Oakland Bay Bridge, Wimbledon No. 1 Court roof in London, and New York City's Hudson Yards development, including the Vessel interactive sculpture and Shed arts centre.
The firm's applied science practice in Scotland performs both analytical and physical dynamic shock testing and analysis, utilising its proprietary air gun technology and state of the art software tools.
Jack, graduate apprentice
In this case study we hear from Jack Wilson of Thornton Tomasetti. Jack is a 2nd year student in our Engineering Design & Manufacture programme. We'll also hear from Gavin Colliar, who is the workplace mentor for Jack.
Please explain how you found the Graduate Position and give some background as to what you were doing prior to being offered the Graduate Apprenticeship position:
After completing my HNC in mechanical engineering at Fife College, I was looking for some sort of degree that I could complete whilst still being able to work. I came across the GA programme online whilst doing so.
What were the benefits of Graduate Apprenticeship programme that attracted you the most?
Because the programme is 20% classes and 80% work-based learning, the programme is almost tailored to my employer's needs.
The programme is completely flexible to how busy a company is. Although there are some set deadlines, most are flexible.
Please describe what you are employed to do (and current job title) and how you have coped with the challenges of learning new skills whilst studying towards a degree:
I'm currently employed as a design draughtsman.
I'm involved in the design of frames for shock that interface with clients' equipment, taking into consideration area available, frequencies, stiffness, welding and fastening. All of these are backed up using software and hand calcs.
So far, I'm coping well with learning new skills as I have various people around me who can help. It can nonetheless be slightly stressful at times trying to balance work and university life.
What is your proudest achievement to date in your role?
Being promoted in October 2019 to Design Draughtsman allowed me to take on more responsibility and start to learn the engineering side of work in more depth. Taking on this role meant I was trusted more within the organisation and showed my commitment to the team.
What are your future career hopes and goals on completion of the Graduate Apprenticeship? Please explain how you think this will differ if you had gone via the traditional route of achieving a degree via a full-time undergraduate programme:
I aspire to be a design engineer within Thornton Tomasetti and perform FEA analysis.
If I had gone down the traditional route after my apprenticeship, I would've had to go to university to complete a full-time degree taking 4-5 years and then be trained up on a job. Whereas the way I have done it means I am doing on-the-job learning whilst still having the 20% uni to complete my qualifications.
Can you outline what support and/or encouragement your employer has given you in your GA journey?
My employer has various engineers of different backgrounds, who are always keen to help where possible. More recently, I have also been given work tasks that will help me complete the work-based learning part of my course.
Please give a quote to sum up your overall experience of the Graduate Apprenticeship programme:
The Graduate Apprenticeship programme has been tough but rewarding so far.
Gavin Colliar, workplace mentor for Jack
Can you provide some background to the company (size, what it does etc):
Thornton Tomasetti Defence Ltd (TTDL) is part of the global Thornton Tomasetti organisation. Founded in 1949 in New York City, Thornton Tomasetti optimizes the design and performance of structures, materials and systems for projects of every size and level of complexity. We are an independent organization of engineers, scientists, architects and other professionals who collaborate from offices worldwide to help clients achieve their goals.
TTDL are part of the Applied Science division who have for over 65 years provided its expertise to engineer practical solutions to structural and mechanical problems. We use our expertise in mechanics, structures, materials, acoustics, stochastics and computational simulations to solve complex problems.
Why did the company decide to go down the Graduate Apprenticeship route?
In order to address our recruitment needs and development of staff into the next generation of engineers, we were required to look at alternative routes other than just the traditional hiring of graduates.
What are the key reasons why the Graduate Apprenticeship model suits your specific business/industry?
The on-the-job learning and work-based studies help ensure that the graduate will have not only a broad engineering experience but also the key skills that are essential for our business.
What appealed to you most about Heriot-Watt University as the GA provider?
What appealed to us was the fact the university is local to our Edinburgh site, its international reputation in the field of engineering, and that historically we have benefited from assistance in some collaborative projects.
In what way has the candidate made a contribution to the workplace / business?
Jack has and continues to make a considerable contribution to the success of the Trials team in being able to deliver a great service to our clients.
How do you feel about the apprentice's future?
Jack is heading in the correct direction and will grow into a more senior role within the company with the correct training and support.
Based on your experience of the Graduate Apprenticeship programme would you happily employ another Graduate Apprentice in the future?
Absolutely. So far, the feedback on the course has been good despite the current COVID restrictions. We will continue to look at a number of ways to grow our team, which will include this route as well as traditionally hiring graduates from a more conventional degree qualification route.