The course
Delivery type

Weekday evenings and Fridays

Duration

1 year (full-time) / 2 years (part-time)

Intake date

September, January

Location

Dubai
Contact
Contact

Heriot-Watt University Dubai Campus

Telephone

+971 4435 8700

Email
Overview
Modern civil engineering professionals often require an extensive understanding of construction management due to the strategic benefits it can bring to both individuals and project teams. As the industry becomes more competitive, organisations and their clients are increasingly demanding the combined time, cost and quality assurances that good project management practice provides. Furthermore, the industry now recognises that there is a need for engineers to gain specialist technical knowledge that complements their academic and professional background.
The MSc/Postgraduate Diploma in Civil Engineering and Construction Management provides students with a combination of courses designed to improve their knowledge and understanding of advanced civil engineering and modern construction management theory and practice.
January entrants
Students starting the programme in January should note that it runs full-time for 2 semesters (12 months) + dissertation (February to April, 3 months) (total 16 months), or part-time runs for 4 semesters (24 months) + dissertation (March to August, 6 months) (total 30 months).
Students enrolling for the January intake programmes are not required to be be on campus during the summer break.
Accreditation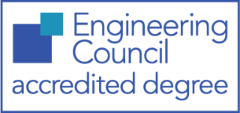 This degree is accredited as meeting the requirements for further learning for a Chartered Engineer (CEng) for candidates who have already acquired a partial CEng (BEng) accredited undergraduate degree. See the Joint Board of Moderators (JBM) for further information.
The Dubai Campus is accredited by the Knowledge and Human Development Authority (KHDA) and fully licensed to teach its degrees in Dubai. All graduates receive a British degree that is accredited by Royal Charter in the UK.