Heritage Trail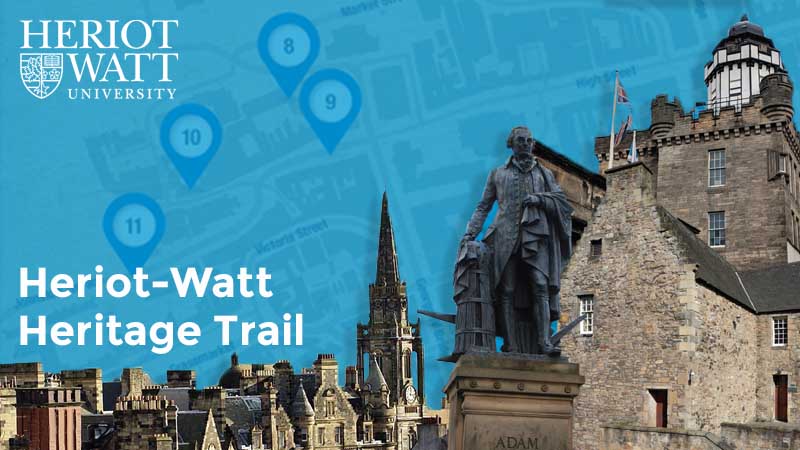 Today, Heriot-Watt University is a vibrant forward looking university at the forefront of innovation in research and teaching. But if you delve into our history, you will discover that our international reputation as one of the leading UK universities can be traced back almost 200 years.
Use our Heritage Trail Map below to guide you on a fabulous historical walk around the Old Town of Edinburgh and discover buildings of interest to Heriot-Watt alumni, students and our wider community.
On this trail, you will find out more about our origins in a room in Edinburgh's Old Town and our journey to become Scotland's most international university. Find out more about Heriot-Watt's heritage and links in the centre of Edinburgh with the likes of Watt, Geddes, Mears, Spence and Spark. Download a PDF version of our Heritage Trail Route Map.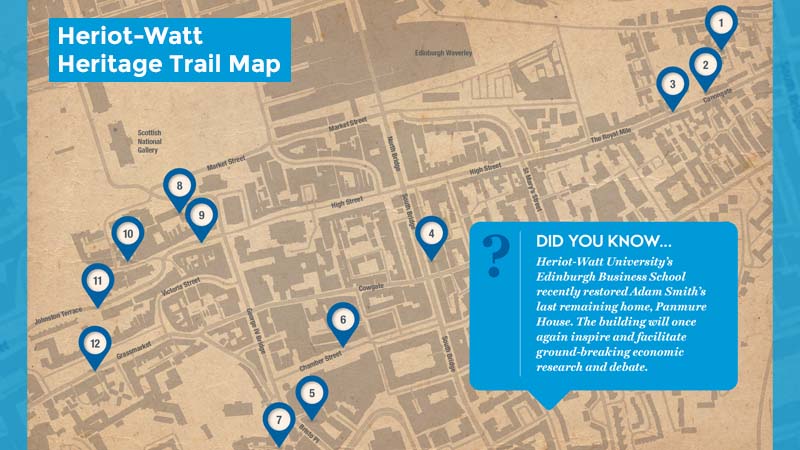 1. Adam Smith's Panmure House
Reopened in 2018
2. Cannongate Flats
Basil Spence (taught at Heriot-Watt College 1931-40
3. Bakehouse Close
Museum of Edinburgh - Restoration by F.C. Mears 1927-32
4. St. Cecilia Hall
Niddry Street - site of Heriot-Watt College's first lecture in 1821 and classes from 1821 to 1837, when the institution moved to Adam Square.
5. National Museum Scotland
The Boulton and Watt engine is one of the worlds oldest surviving beam engines in the world.
6. Chambers Street
Watt Institution 1872, became Heriot-Watt College 1888
7. 16a Bruntsfield Place (off map)
Murial Spark, an alumna of Heriot-Watt College, lived here in 1945.
8. Lawnmarket
Patrick Geddes lived at 6 James Court from 1887 (taught at Heriot-Watt College 1886-1890).
9. Patrick Geddes Centre
The Patrick Geddes Centre at Riddle's Court.
10. Outlook Tower
Patrick Geddes' sociological museum. The view from the north terrace includes Heriot-Watt University's sports and performance centre, Oriam and places our current campus in Patrick/Geddes/Frank Mear's Valley Section.
11. Patrick Geddes Steps
3 Doves: Sympathy, Synergy, Synthesis.
12. Grassmarket
Old Castle Brewery (now Apex Hotel), Heriot- Watt's Student Union.